Welcome to Advent Reads!
This is an event I have had on my blog for several years running now. Each evening I feature a different holiday themed book. Think of it as your Book Advent Calendar! I post a variety of holiday books including romance, children's, middle-grade, mystery, paranormal, and I try to find some that are other holiday celebrations than Christmas too. I hope you will stop by each evening to see what new book I have for you!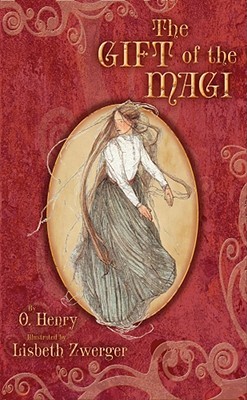 Synopsis:
"One dollar and eight-seven cents is all the money Della has in the world to buy her beloved husband a Christmas present. She has nothing to sell except her only treasure -- her long, beautiful brown hair. Set in New York at the turn of the twentieth century, this classic piece of American literature tells the story of a young couple and the sacrifices each must make to buy the other a gift. Beautiful, delicate watercolors by award-winning illustrator Lisbeth Zwerger add new poignancy and charm to this simple tale about the rewards of unselfish love."
My Review:
The only version of Gift of the Magi I am familiar with is the video of Mickey and Minnie, so I thought it was time I read the original. I was a little hesitant at first because of the wording at the beginning but I quickly came to love the flow of the writing. It was a beautiful story and a great one for the holidays, it is also a short enough book to sit down in the middle of your to dos and remember what true gift giving is about. I also love this edition, the artwork is so beautiful!
My Rating: I am surprised at how much I enjoyed this one and it was a perfect little book to sit down with in the flurry of the season. I give it a rating of Four Paws!