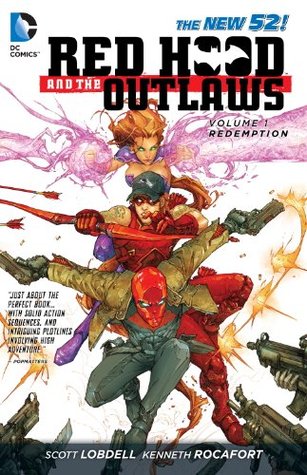 Read for: Graphic Novel Challenge
Synopsis: "No sooner has Batman's former sidekick, Jason Todd, put his past as the Red Hood behind him than he finds himself cornered by a pair of modern day outlaws: Green Arrow's rejected sidekick Arsenal, the damaged soldier of fortune, and the alien Starfire, a former prisoner of intergalactic war who won't be chained again. As a loner, Jason has absolutely no interest in this motley crew of outlaws. So what's he going to do when they choose the Red Hood as their leader?"

My Rating: I so want to like this one, I enjoyed the characters but it took forever to really get into it. The reason I am finding that I dislike about super hero graphic novels is that no matter if you are getting the first issue there is always some backstory to years and years of previous issues and graphic novels that you haven't read. It seems all super hero graphic novels are linked and unless you have a vast knowledge of them, you will be totally lost for a while. With that said I did really enjoy these individual characters and conflicts throughout this graphic novel. I really enjoyed the style of illustration as well.
My Review: I clearly need more backstory on these super heroes and villains. Maybe someone should but out a character profile comic book for each one that you can get as a supplement before starting a new graphic novel series. Anyway, it was fun and enjoyable and I may try to follow this one a little bit. I give it a rating of Three Paws and a Stump Wag.