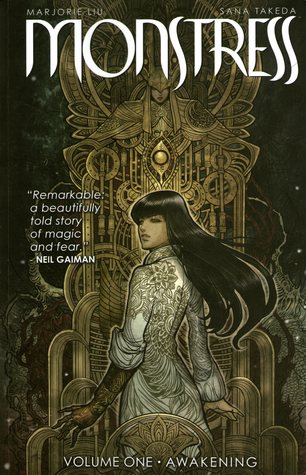 Read for: Graphic Novel Challenge
Synopsis "Set in an alternate world of art deco beauty and steampunk horror, Monstress tells the epic story of Maika Halfwolf, a teenage survivors of a cataclysmic war between humans and their hated enemies, the Arcanics. In the face of oppression and terrible danger, Maika is both hunter and hunted, searching for answers about her mysterious past as those who seek to use her remain just one step behind...and all the while, the monster within begins to awaken..."
My Review:
I picked this graphic novel up completely on whim, from what I could see on the cover the art looked fantastic and even though I am not a fan of steampunk I thought I would give it a shot. I am so glad I did because this was really good. I loved the art and the story was great as well. It was not as steampunk as I expected it to be and honestly more fantasy than anything so it was easy for me to slip into and grasp. There were a few gaps that were confusing but were slowly filled in as the storyline moved along, I think more will be revealed in the next one. I did find some of the characters to be a little too similar so difficult to decipher. With that said there were also a vast variety of characters, I absolutely adored Kipa and the cat (I can't remember his name right now). Honestly, this was way better than I was expecting, and can't wait to read continue with the series. Oh and if you are looking for a dark and somewhat creepy read for October, this is a great choice.
My Rating: I was very pleasantly surprised with this one, and just a lesson that sometimes outside your comfort zone is just as good as inside. I give it a rating of Four Paws!