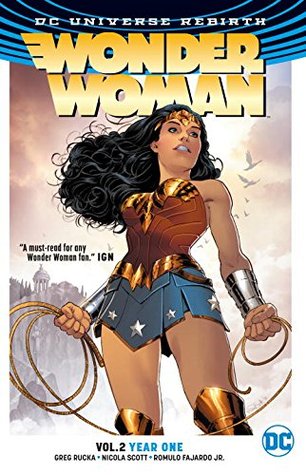 Read For: Graphic Novel Challenge
Synopsis:
"A part of DC Universe: Rebirth!

New York Times best-selling writer Greg Rucka continues his return to Wonder Woman! The team of Rucka and artist Nicola Scott weave the definitive and shocking tale of Diana's first year as Earth's protector.

Paradise has been breached, Ares stirs, and the Amazons must answer with a champion of their own...one who is willing to sacrifice her home amongst her sisters to save a world she has never seen. Wonder Woman's journey begins in this epic origin story!"
My Review:
I never really followed Wonder Woman as a kid like so many others did but I did know the basics about her; I have also not seen the movie, so this is a review from someone basically new to her story line. With all that said, I was very pleasantly surprised. I like how it starts at the beginning, where she came from, what her mission is and how she got here. I also liked how much mythology played a role in this story line. Diana is a fun character, quirky, loyal, dedicated and rather unique. My favorite part about this story, it doesn't refer to 37 other back stories and other super heroes, it is just for her and you don't feel lost jumping into this story.
My Rating: I really enjoyed this one, I did get lost, I felt like I was starting at the beginning and the illustrations style had a classic comic book look to it. I give this one a rating of Four Paws!