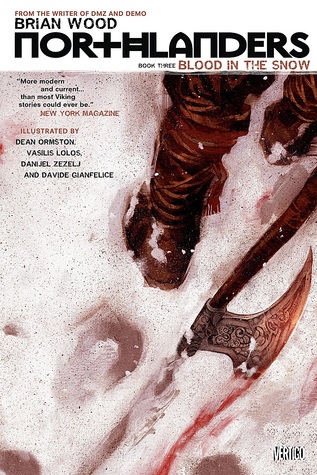 Read for: Graphic Novel Challenge
Synopsis: "This volume collects all of the NORTHLANDERS short stories (issues 9, 10, 17, 18, 19 and 20). Exploring everything from the art of Viking single combat, to the role of women in the Viking world, this volume also includes the return of the original Northlanders artist Davide Gianfelice to illustrate a coda to Volume 1."

My Review: This was an odd one to read because it didn't follow any particular character, story or time line. The individual stories were interesting on their own, I particularly enjoyed the Shield Maidens. I also liked returning to Sven the Returned. I don't know if I enjoyed the format so much of a bunch of short stories together but I will give the next volume a go anyway.
My Rating: I keep having hopes for this series but it falls short almost every time. It is interesting but it may have to be a series I let slide. I give this one a rating of Two Paws.