I have been trying to figure out a way to share all these books I read with you but still include other non-review posts on the blog. One method I have come up with was to share the reviews for an entire series (or pair) of books in one post. I will do my absolute best to keep spoilers out of these posts in case you plan to read the books, but there is a slight chance that even the synopsis of a book can give away the result of the previous book. So if you don't want to know anything at all about the later books in a series that might giveaway something in the first book STOP READING NOW!
For this Series Review I have consumed all the books currently released in The Selection Series by Kiera Cass. The final book, The Crown, is expected to be released in May of this year and I will review that one after that date as well. So far this series has consisted of 4 full length novels and 4 novellas (one was released online that I did not read yet. These novellas were also released combined in a book title Happily Ever After, but I already had them all purchased and downloaded individually so that is how I read and reviewed them). I did listen to the audio books of the novels and read digital copies of the novellas. So lets get started, this will be a long post!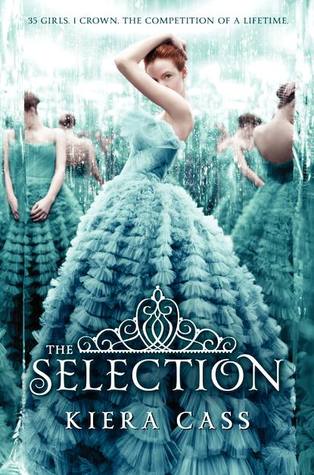 Synopsis:
"For thirty-five girls, the Selection is the chance of a lifetime. The opportunity to escape the life laid out for them since birth. To be swept up in a world of glittering gowns and priceless jewels. To live in a palace and compete for the heart of gorgeous Prince Maxon.

But for America Singer, being Selected is a nightmare. It means turning her back on her secret love with Aspen, who is a caste below her. Leaving her home to enter a fierce competition for a crown she doesn't want. Living in a palace that is constantly threatened by violent rebel attacks.

Then America meets Prince Maxon. Gradually, she starts to question all the plans she's made for herself—and realizes that the life she's always dreamed of may not compare to a future she never imagined."

My Review: So I have been planning to read this book for quite a while after seeing so many raving reviews. I downloaded this one (and all the main books) as audio. I planned to listen to one a month until the final book is released in May. Well this book sucked me in like I never expected. I didn't want to stop listening. I honestly can't even tell you why I found it so engrossing. I did like America most of the time, I like that she was rather independent and didn't go along with what the other girls did, but on that same token she was a little wishy washy with regards to Aspen and Maxon. I did thoroughly love Maxon, he is a solid stone of personality throughout the book, I love how every time we see him we learn another tidbit of him. I have a great dislike of Aspen and I have no idea what America even sees in him other than the comfort of the past and all things home. I must say that I am thoroughly engrossed and am jumping into the series with both feet (and ever available reading moment).
My Rating: I found this book totally engrossing and couldn't pin point the reason, but obviously it was an excellent start and way to suck me into the series. I give it a rating of Four Paws and a Stump Wag.
~~~~~~~~~~~~~~~~~~~~~~~~~~~~~~~~~~~~~~~~~~~~~~~~~~~~~~~~~~~~~~~~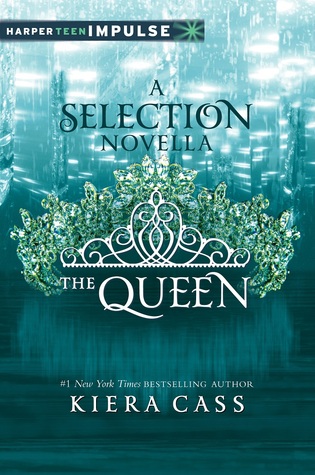 Synopsis: "Before America Singer's story began, another girl came to the palace to compete for the hand of a different prince….

Don't miss this digital original novella set in the captivating world of Kiera Cass's #1 New York Times bestselling Selection series. This prequel story takes place before the events of The Selection and is told from the point of view of Prince Maxon's mother, Amberly. Discover a whole new Selection with this inside look at how Maxon's parents met—and how an ordinary girl named Amberly became a beloved queen."

My Review: I really am glad to have this little look into the lives of the King and Queen, and also the past Selection. Honestly, I think it gives a little more insight as to Maxon's father and his attitude than the Queen, but we do learn about her personality too. I am glad the series isn't about her because I would have had to quit reading right away with her weak and submissive personality.
My Rating: This was a great novella to follow the first book, it gave a nice backstory on some of the more elusive characters in the story so far as well as a look at how the previous selection proceeded. I give it a rating of Four Paws.
~~~~~~~~~~~~~~~~~~~~~~~~~~~~~~~~~~~~~~~~~~~~~~~~~~~~~~~~~~~~~~~~~~~
Synopsis:
"Before thirty-five girls were chosen to compete in the Selection...

Before Aspen broke America's heart...

There was another girl in Prince Maxon's life...

Don't miss this thrilling 64-page original novella set in the world of the New York Times bestselling novel The Selection. Also features a teaser to The Elite, Kiera Cass's hotly anticipated sequel to The Selection."

My Review: I was so happy to be able to learn more about Maxon's past, he is definitely a favorite character for me in this series. I liked seeing him in previous situations and also how he has had to overcome so much opposition already and is using what little power he has subtly in the Selection.
My Rating: Another quick look into the backstory of the royal family, I enjoyed learning how Maxon functions and handles the pressures he is given. I give it a rating of Four Paws.
~~~~~~~~~~~~~~~~~~~~~~~~~~~~~~~~~~~~~~~~~~~~~~~~~~~~~~~~~~~~~~~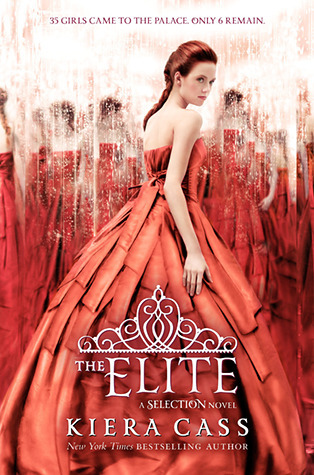 Synopsis: "The Selection began with thirty-five girls.
Now with the group narrowed down to the six Elite, the competition to win Prince Maxon's heart is fiercer than ever—and America is still struggling to decide where her heart truly lies. Is it with Maxon, who could make her life a fairy tale? Or with her first love, Aspen?

America is desperate for more time. But the rest of the Elite know exactly what they want—and America's chance to choose is about to slip away."

My Review: Again, I can't tell you exactly what keeps drawing me into this series, if it is the book, the characters, or even the narrator but every time I try to stop I can't! I do find America to be really flaky and I can't blame Maxon for his reservations. I absolutely do not like Aspen, for him to continue to tell America she isn't to the level of the prince or the other contestants, that he doesn't think she can do the job etc. I do however like seeing more of the politics and the dynamics of the country as a whole. It is also great to see the characters progressing and developing with each challenge they face. There were definitely some really big shockers in this one and it was nice to add a couple elements and twists to a plot that doesn't seem to be moving all that much. Like I said, I really can't fully explain why I am so drawn in by these books but I am and won't stop reading yet!
My Rating: Again, just like the first book, I was totally drawn in and hooked by the story and the characters. While some of the characters drive me nuts and I kind of want to knock some sense into America it is thrilling to read the progression of the story. I give it a rating of
Four Paws.
~~~~~~~~~~~~~~~~~~~~~~~~~~~~~~~~~~~~~~~~~~~~~~~~~~~~~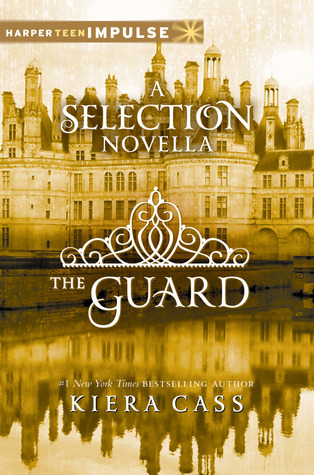 Synopsis:
"The second novella set in the world of Kiera Cass's No. 1 New York Times bestselling Selection series – Aspen's story!

Raised as a Six, Aspen Leger never dreamed that he would find himself living in the palace as a member of the royal guard.

In 'The Guard', readers get an inside look at Aspen's life within the palace walls – and the truth about a guard's world that America will never know.

A captivating view into the heart of Aspen, one of the men fighting to win America Singer's love."

My Review: Thank goodness this was a short novella. While I am thoroughly in love with the series, I am not in love with Aspen and this book from his point of view didn't help improve that opinion. He does have a few redeeming qualities like taking care of his family and his work ethic but they aren't enough to over come other issues. I did like the chance to see more of the inner workings of the royal family too, particularly in the office as well as all the efforts of those to soften blows to the country.
My Rating: This book tries to portray Aspen as a little bit more of a likeable guy but it didn't work for me. I am sure it is just my dislike of the character coloring my opinion on this one but I give it a rating of Three Paws.
~~~~~~~~~~~~~~~~~~~~~~~~~~~~~~~~~~~~~~~~~~~~~~~~~~~~
Synopsis:
"While America Singer's heart was torn between Aspen and Prince Maxon, her friend Marlee knew exactly what she wanted—and paid the price.

Revisit the captivating world of Kiera Cass's #1 New York Times bestselling Selection series in this digital original novella. Told from Marlee's point of view, this all-new 64-page story returns to the fateful Halloween when Marlee and Carter were discovered, and reveals how that night—and Prince Maxon—changed their lives forever.

The Favorite also features a teaser to The Siren!"

My Review: I have really liked Marlee throughout the series so far and I appreciate seeing things from her viewpoint after she was removed from the selection. I also really appreciated seeing the side of Maxon that you don't get to see in the books and how he is working hard to better the lives of others. While the story was about Marlee and Carter, it really was also about Maxon and a tiny bit about America. I will warn though, read part one between books 2 and 3 but part 2 takes place halfway through book 3 through the end of book 3, so I would hold off reading part 2 until the end of The One (or like I did and bounce between the books as the stories move along).
My Rating: While I loved reading more about Marlee and finding out what life held for her after the events in the Elite, I found it a little difficult since the second half of the book took place half way through book 3 and gave away some spoilers if you weren't careful to stop until you reached that point in book 3. I give it a rating of Three Paws.
~~~~~~~~~~~~~~~~~~~~~~~~~~~~~~~~~~~~~~~~~~~~~~~~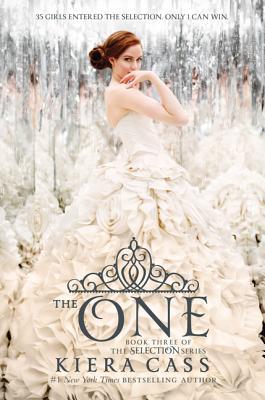 Synopsis:
"The time has come for one winner to be crowned.

When she was chosen to compete in the Selection, America never dreamed she would find herself anywhere close to the crown—or to Prince Maxon's heart. But as the end of the competition approaches, and the threats outside the palace walls grow more vicious, America realizes just how much she stands to lose—and how hard she'll have to fight for the future she wants."

My Review: While I know what happens in the end of this book since The Heir is already out, it was still an exciting book to read. It was possibly the fastest moving book in the series with a lot more action and plot movement. Secrets come out, decisions are made, dangers are faced, losses are felt, and more. I think this might be the best book in the series and really enjoyed the development of the characters (especially after reading all the novellas and learning a little bit more about each of the main characters). I would however have liked to know more about Kriss. While I want to follow America and Maxon more, I feel like this could have been a good conclusion, I would have been satisfied with the end here, but The Heir is already out and ready to be read.
My Rating: This book was beyond thrilling and exciting, since we have become so attached to the characters and have been so invested in their stories it was an emotional book. I give it a rating of Four Paws.
~~~~~~~~~~~~~~~~~~~~~~~~~~~~~~~~~~~~~~~~~~~~~~~~~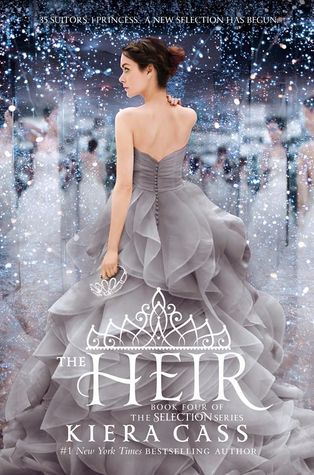 Synopsis:
"Princess Eadlyn has grown up hearing endless stories about how her mother and father met. Twenty years ago, America Singer entered the Selection and won the heart of Prince Maxon—and they lived happily ever after. Eadlyn has always found their fairy-tale story romantic, but she has no interest in trying to repeat it. If it were up to her, she'd put off marriage for as long as possible.

But a princess's life is never entirely her own, and Eadlyn can't escape her very own Selection—no matter how fervently she protests.

Eadlyn doesn't expect her story to end in romance. But as the competition begins, one entry may just capture Eadlyn's heart, showing her all the possibilities that lie in front of her . . . and proving that finding her own happily ever after isn't as impossible as she's always thought."

My Review: So I have been thoroughly engrossed in this series, and have been really enjoying the audio books and couldn't wait to dive into this one. I was totally thrown off when the narrator was different but I came to realize that it was good thing since the voice needed to change with the perspective as Eadlyn instead of America, it made it easier to recognize this book as a separate narration. That said I had to push a little harder to get into this book, I had an instant dislike of Eadlyn, which I almost think Cass meant to happen, as the book progresses I found myself tolerating her a little more but still irritated at her arrogance and self centered personality. Upon meeting her selected I instantly fell in love with several of them so I am glad I continued listening. However, the ending was so emotional and so open, I can understand while everyone is on pins and needles waiting for the Crown to be released (and now I am wishing I had waited to start these books until May)!
My Rating: This book didn't suck me in quite the way the rest of the series did, it was a much slower progression, but by the shocking ending I am hanging on every word and cannot wait for the conclusion of the series. I give it a rating of Three Paws and a Stump Wag.
~~~~~~~~~~~~~~~~~~~~~~~~~~~~~~~~~~~~~~~~~~~~~~~~~~~~~~~~~~~~~~
Series Review: Well this series definitely caught me off guard, I know a lot of people absolutely raved about it and others didn't like it so much. I have found in recent years that I get very frustrated with love triangles and drama filled plots but while this series did have all that in spades it was presented in such a way that it was more exciting, there was more riding on the relationship decisions. The jump to a different viewpoint and time frame in The Heir threw me off for a bit but it was a smart decision to have a different narrator for that book to distinguish how vastly different Eadlyn is from America.
Over all I can't help but give this series a rating of Four Paws.