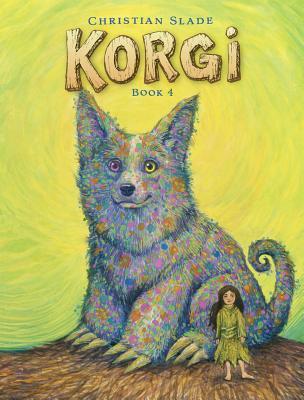 Read for: Graphic Novel Challenge, Middle Grade March & Love this series
Synopsis:
"
Magic potions can be powerful stuff, but they don't always turn out like you want. Our canine hero, Sprout the Korgi, learns this the hard way -- and goes through quite the transformation -- in his latest adventure! This mixed-up woodland fairy tale features Ivy's first meeting with Sprout, a surprisingly musical new trick, an undead unicorn, more of those pesky Creephogs, and at least one giant boulder.
As always, the story unfolds in lovingly detailed pen-and-ink drawings. From the heart, mind, and hands of Christian Slade comes the most fantastic and creative chapter yet from the enchanting world of Korgi."
My Review:
It has been a while since I have last read a Korgi book, they don't really come out on a consistent schedule but I do adore this series. I wasn't too sure about this one when I saw the cover, it doesn't really match the rest of the series or what I expected it to look like, but after reading it makes a lot more sense. I am glad I picked this one up, it had loads of personality and really added to the overall story. Even without any words the characters and story really come to life. The story in this one is a bit silly and quirky, I loved the look at the 'evil' creatures, they are rather unique. These graphic novels are great for readers of all ages, even those who can't read yet.
My Rating: I really adore this series and am glad that another long awaited book came along, and I hope more come out. These are such great graphic novels for all ages, a fun and unique world and a story told in simple line drawings. I give it a rating of Four Paws!