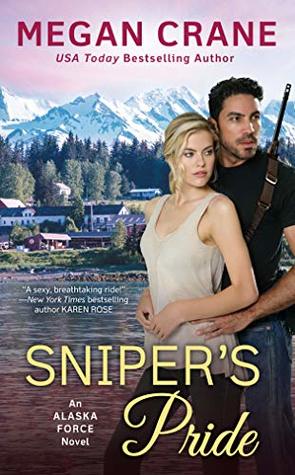 Read for: Requested Review/ Penguin First to Read
Synopsis: "Return to Alaska's Grizzly Harbor where danger strikes with arctic precision and love thaws the coldest hearts in the newest romantic suspense from the USA Today bestselling author of SEAL's Honor.
After Mariah McKenna lands in the hospital with a life-threatening anaphylactic reaction she knows she didn't cause, she realizes her cheating, vindictive husband would rather have a dead wife than a divorce. Afraid that he will succeed in killing her next time, Mariah goes to Grizzly Harbor to hire one of the Alaska Force special operatives to help her survive long enough to finally live a little.
Griffin Cisneros traded in a comfortable future for boot camp, where he learned the virtue of patience and focus—skills that served him well as a Marine sniper. Few things get to him these days, but something about Mariah's mix of toughness and vulnerability gets right under his skin. Until it's clear she's the one thing in the world that might melt the ice in stoic, reserved Griffin, whether he likes it or not.
If he can just keep her alive..."
My Review:
I was intrigued by this book and requested it without having read the first book (which I did read prior to starting this one). I like the combination of military men, small town in Alaska and the thriller element. I really loved Mariah in this one, she has a stubborn streak a mile wide and I can really appreciate that. I was not as much a fan of Griffin, he had a lot going on internally that while it was very believable, I just didn't jive with him. I was also a little disappointed that I had most of the mysteries figured out well in advance of the ah ha moment in the book. With that said, I did enjoy the story and the way the characters developed and interacted. I am still curious about some of the other members of Alaska Force and will be on the look out for future books.
My Rating: While this one was a bit predictable, it was still an enjoyable read and I really liked Mariah's character. I am still intrigued by some of the other Alaska Force characters and am looking forward to more. I give it a rating of Three Paws and a Stump Wag.
I received a complimentary copy of this book via the Penguin First to Read program. The following is my honest opinion.
Sniper's Pride was just released May 7th, so you can now get it and the first book in the series in both digital and print format from Amazon or Barnes & Noble or check at your local bookstore.