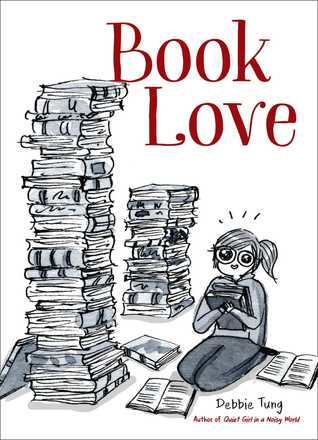 Read for: Graphic Novel Challenge
Synopsis:
"
Bookworms rejoice! These charming comics capture exactly what it feels like to be head-over-heels for hardcovers. And paperbacks! And ebooks! And bookstores! And libraries!
Book Love is a gift book of comics tailor-made for tea-sipping, spine-sniffing, book-hoarding bibliophiles. Debbie Tung's comics are humorous and instantly recognizable—making readers laugh while precisely conveying the thoughts and habits of book nerds. Book Love is the ideal gift to let a book lover know they're understood and appreciated."
My Review:
I kept seeing this book and finally gave in and picked it up, perfect for my book loving heart. This is a series of short comic strips that non-sequential but all revolving around the reader life. It perfectly depicts life as a bookworm, from staying up all night reading to having a never ending TBR that we keep adding to. I love the simplistic art style too of just sketchy black ink. A fun book to add to any book lover shelf.
My Rating: I am so glad I picked this one up, it captures so many of my book loving moments and thoughts perfectly. I also adore the art style. I give it a rating of Four Paws!