Welcome to Advent Reads!
This is an event I have had on my blog for several years running now. Each evening I feature a different holiday themed book. Think of it as your Book Advent Calendar! I post a variety of holiday books including romance, children's, middle-grade, mystery, paranormal, and I try to find some that are other holiday celebrations than Christmas too. I hope you will stop by each evening to see what new book I have for you!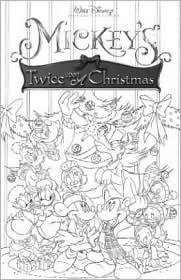 Synopsis: "An adaptation of the Disney direct-to-DVD movie of the same name. This is the first all-Disney produced CGI animated feature and stars Mickey, Minnie, Donald Daisy, Goofy, Pluto, Scrooge, and the nephews."

My Review: We love the Mickey Christmas movies and this is a fun way to encourage a little more reading during the holidays as opposed to watching TV. It follows the movie pretty much exactly with the same art, narration and short stories. It is great for young kids or old and has wonderful stories and lessons about friendship and family during the holidays.
My Rating: I enjoyed having this movie to graphic novel adaptation, it reminded me of the old Disney comic books I used to read as a kid. This is great for kids young and old alike. I give it a rating of Four Paws!