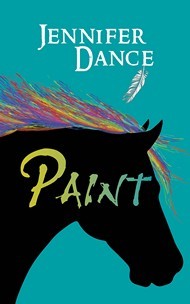 Read for: Requested Review/NetGalley
Synopsis: "It's the late 1800s. A Lakota boy finds an orphaned mustang foal and brings her back to his family's camp. Naming her Paint for her black-and-white markings, boy and horse soon become inseparable. Together they learn to hunt buffalo, their fear of the massive beasts tempered by a growing trust in each other.

When the U.S. Cavalry attacks the camp, the pair is forced onto separate paths. Paint's fate becomes entwined with that of settlers, who bring irreversible change to the grassland, setting the stage for environmental disaster. Bought and sold several times, Paint finally finds a home with English pioneers on the Canadian Prairie.

With a great dust storm looming on the horizon, man and horse will need to work together if they hope to survive."

My Review: I found the time period and view point to be very interesting. At times I found the book a little odd as it follows Paint the horse but then it will branch off with other characters for a little bit. While it started out being a little distracting, it really added to the story in the long run. I really enjoyed the detail and research that went into this book, it contains a lot of history and when put into a horse's lifetime period compared to a human's you really get an idea of how much everyone (people and animals) went through and struggled with in such a short amount of time. When we return to Noisy Horse at the conclusion, I find myself a little conflicted, while it is accurate I find some of the statements made to be very hateful, but again they are accurate for the time period. In all it was a very well written book and a great way to introduce this history to young readers. The end also included a historical timeline, glossary and several facts that were touched on in the story.
My Rating: Of course I am attracted to any book that features horses but this one was particularly intriguing. I haven't read many books that span all of this particular time period or from this view point. I really liked how we got to see things from many different angles. I give it a rating of Four Paws!
I requested this book for review on NetGalley.
You can also obtain your own copy of Paint when it is released on March 3rd this year (next week)!