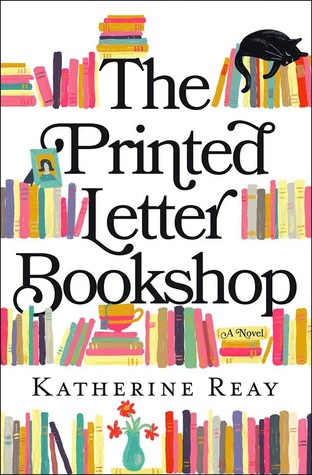 Read for: Netgalley/ Requested Review
Synopsis: "Love, friendship, and family find a home at the Printed Letter Bookshop
One of Madeline Cullen's happiest childhood memories is of working with her Aunt Maddie in the quaint and cozy Printed Letter Bookshop. But by the time Madeline inherits the shop nearly twenty years later, family troubles and her own bitter losses have hardened Madeline's heart toward her once-treasured aunt—and the now struggling bookshop left in her care.
While Madeline intends to sell the shop as quickly as possible, the Printed Letter's two employees have other ideas. Reeling from a recent divorce, Janet finds sanctuary within the books and within the decadent window displays she creates. Claire, though quieter than the acerbic Janet, feels equally drawn to the daily rhythms of the shop and its loyal clientele, finding a renewed purpose within its walls. When Madeline's professional life takes an unexpected turn, and when a handsome gardener upends all her preconceived notions, she questions her plans and her heart. She begins to envision a new path for herself and for her aunt's beloved shop—provided the women's best combined efforts are not too little, too late.
The Printed Letter Bookshop is a captivating story of good books, a testament to the beauty of new beginnings, and a sweet reminder of the power of friendship."
My Review:
Of course this cover immediately drew me in immediately so I was excited to read this one. For some reason I thought it would be a light read, but it ended up being much deeper than expected. This is definitely a book that needs to be savored slowly, with a lot of pondering. It leaves me wishing I had knew Maddie to have been so insightful of the people around her. I loved watching the characters change and grow throughout this book, they each had road blocks to stumble over and hands reaching out to help them but it was up to them to take that hand, which I really appreciated. This would be a great book to read on a vacation when you can take the time for all the wisdom throughout the book and how it could apply to your own life.
My Rating: It took me quite a while to read this one, longer than I expected and at first I didn't think it was going to suit my reading mood currently but the more I got into the story the more I appreciated it. I give it a rating of Three Paws.
I received a complimentary copy of this book via Netgalley, the above is my honest opinion.
The Printed Letter Bookshop was just released on May 14th, so you can now pick up your own copy in digital or print formats from Amazon or Barnes & Noble or ask at your local library or bookstore.