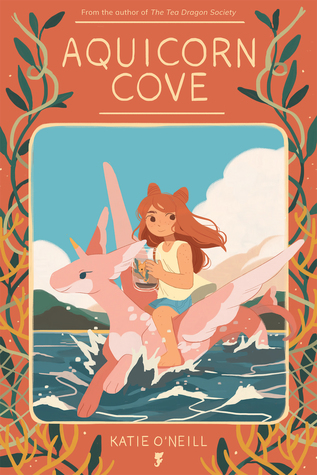 Read for: Recent Addition & Booktube SFF Awards
Synopsis:
"
When Lana and her father return to their seaside hometown to help clear the debris of a storm, the last thing she expects is to discover a colony of Aquicorns—magical seahorse-like residents of the coral reef. As she explores the damaged town and the fabled undersea palace, Lana learns that while she cannot always count on adults to be the guardians she needs, she herself is capable of finding the strength to protect both the ocean, and her own happiness."
My Review:
I picked this one up for the 2019 Booktube SFF Awards but I would have picked it up eventually anyway because I love O'Neill's art style. While her other graphic novels that I have read were purely fantasy, this one is more realistic with a modern setting and a fantastical twist. I like the way life situations, like recovering from a hurricane, are interwoven with a fantasy undersea world. It also all comes together in a message about taking care of the planet. Of course the art style was great, I love the slightly muted color tones, it adds to the mystical feel of the book and the Aquicorns remind me of Serendipity from the Cosgrove books when I was a kid.
My Rating: I, of course, enjoyed this one, I love the Aquicorns, the artwork and enjoyed the story. I do think that I prefer the Tea Dragon Society a little more but this one was still really enjoyable. I give it a rating of Three Paws and a Stump Wag.