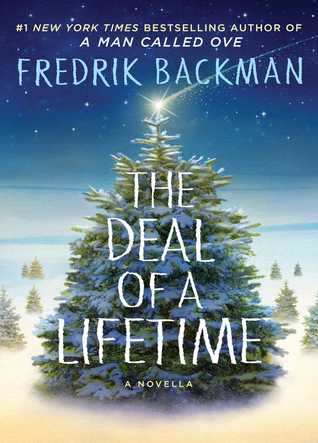 Read for: Recent Purchase and New Favorite Author
Synopsis:
"The #1 New York Times bestselling author of A Man Called Ove and Beartown delivers an insightful and poignant holiday novella about a man who sacrificed his family in the single-minded pursuit of success and the courageous little girl fighting for her life who crosses his path.

It all begins with a father telling a story to his son on Christmas Eve. But this isn't your typical Christmas story. The father admits to his son that he's taken a life but he won't say whose—not yet.

One week earlier, in a hospital late at night, the man met a five-year-old girl with cancer. She's a smart kid—smart enough to know that she won't beat cancer by drawing with crayons all day, but it seems to make the adults happy, so she keeps doing it.

As the man tells his son about this plucky little girl, he slowly reveals more about himself: while he may be a successful businessman, idolized by the media and his peers, he knows he failed as a parent. Overwhelmed by the responsibility of fatherhood, he took the easy way out and left his wife and little boy twenty years ago to pursue professional success. Now he is left wondering if it's too late to forge a relationship with his son, who seems to be his opposite in every way—prizing happiness over money, surrounded by loving friends in a cozy town where he feels right at home.

Face to face with the idea that something is missing, the man is given the unexpected chance to do something selfless that could change the destiny of the little girl in the hospital bed. But before he can make the deal of a lifetime, he needs to find out what his own life has actually been worth in the eyes of his son. And so, he seeks him out and tells him this story…"
My Review:
After reading A Man Called Ove earlier this year (and it is one of my favorites of the year) I am all for reading anything by Fredrik Backman, so when I saw this at the store I snatched it up. It is a short little story and has some sweet illustrations throughout the book. It is said to be a Christmas story but you really don't get too much of a Christmas feeling. The little girl is a great character, sweet, intelligent and practical. The man is not a likable character, but he isn't meant to be, I don't come across characters like this often. You know, now that I think of it I don't think any of the characters throughout this story have a name, it makes it unique and also can apply to anyone, but it also gave me a sense of disconnect, I didn't get really emotionally attached to the characters or the story. I did find that the time line jumped around a lot and that got a bit confusing, one minute you are current and the next you are listening to the past be told and you can't always tell which is which. With that said it is a great story with a great little message in it. It is a short read so if you have a few minutes, don't hesitate to pick it up.
My Rating: I have really enjoyed reading Backman's books, this one didn't have quite the same level of polish or emotional connection to the characters as A Man Called Ove but it was still a great read. I give it a rating of Two Paws and a Stump Wag.