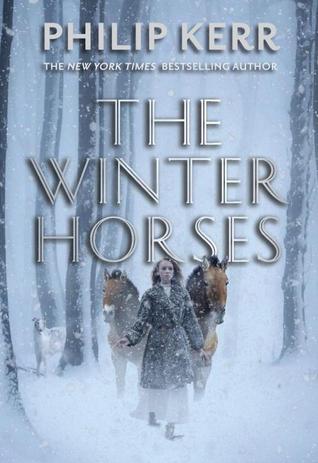 Synopsis: "From New York Times bestselling author Philip Kerr comes a breathtaking journey of survival by one girl and two horses in the dark days of WWII.

It will soon be another cold winter in the Ukraine. But it's 1941, and things are different this year. Max, the devoted caretaker of an animal preserve, must learn to live with the Nazis who have overtaken this precious land. He must also learn to keep secrets-for there is a girl, Kalinka, who is hiding in the park.

Kalinka has lost her home, her family, her belongings-everything but her life. Still, she has gained one small, precious gift: a relationship with the rare wild and wily Przewalski's horses that wander the preserve. Aside from Max, these endangered animals are her only friends-until a Nazi campaign of extermination nearly wipes them out for good.

Now Kalinka must set out on a treacherous journey across the frozen Ukrainian forest to save the only two surviving horses-and herself.

This sensitive, inspiring tale captures the power of sacrifice and the endurance of the human spirit."



My Review: Wow, this is probably one of the best books I have read so far this year! It was totally captivating and was one to stay up late reading. I am not sure how much of this book was based on fact, but in the end I really didn't care, I just wanted more. At times things got a little far fetched and maybe took away from the story a little but those parts were quickly forgotten. I also liked there were facts at the end of the book about both the actual preserve and the Przewalski horses. It was very interesting and the story flowed beautifully. This is one I might have to revisit down the road.
My Rating: This book was fantastic, I could not put it down. Even though parts were very unbelievable, the story was so enthralling you couldn't help but get sucked in. I give this one Four Paws and a Stump Wag! Oh and did you see that cover? You should see it in person!