I have added After Dark Reviews to my blog as a way of notifying you of a review of a book with Adult themes and scenes. From now on I will keep my reviews of all books I read that have explicit scenes in them for late night posts for those of you who prefer to avoid them or easy to find for those of you who seek them out ;)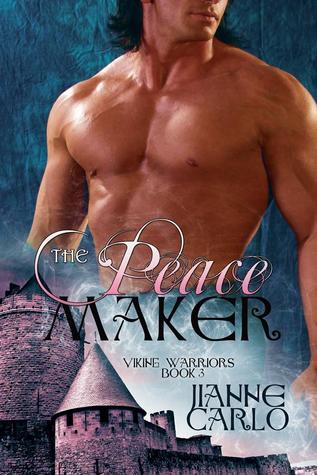 Synopsis: "Can the Peacemaker tame a warrior bride?

When Njal the Peacemaker meets his bride-to-be, she's dressed in breeches, flaunting a crossbow, and covered in boar's blood. What he needs is a woman skilled with words, a woman with exquisite manners, a cunning woman capable of maneuvering the political intrigue of a king's court. Not this rough country lass whose skill with a crossbow rivals his.

Bettina has no desire to wed a peacemaker. She needs a Viking warrior who'll strike fear into the hearts of her enemies, a man of strength who can thwart her step-uncle's theft of her castle's treasures. But Nyal the Peacemaker wields words, not weapons—until their wedding night proves he's also a man of passion. Neither can resist the heat of their coupling, but can a man who values peace be enough for a warrior bride?"

My Review: Another good after dark book in this series. I do love the Viking men and their tough ass women, but sometimes I want to read more than their bed-sport. There is so much more going on in this one, maneuvering of kings and political intrigue, chest pounding to see who comes out the victor but the story really skims over all of that. All that said, if you are looking for a steamy book to keep you company at night this is perfect.
My Rating: For what it is, this is a great book but I am starting to want more from this series and these books. I give it a rating of Two Paws and a Stump Wag.