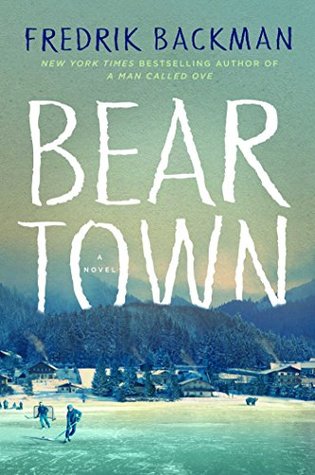 Read for: Recent Purchase/ Audio Book
Synopsis:
"T
he #1
New York Times
bestselling author of
A Man Called Ove
returns with a dazzling, profound novel about a small town with a big dream—and the price required to make it come true.
People say Beartown is finished. A tiny community nestled deep in the forest, it is slowly losing ground to the ever encroaching trees. But down by the lake stands an old ice rink, built generations ago by the working men who founded this town. And in that ice rink is the reason people in Beartown believe tomorrow will be better than today. Their junior ice hockey team is about to compete in the national semi-finals, and they actually have a shot at winning. All the hopes and dreams of this place now rest on the shoulders of a handful of teenage boys.
Being responsible for the hopes of an entire town is a heavy burden, and the semi-final match is the catalyst for a violent act that will leave a young girl traumatized and a town in turmoil. Accusations are made and, like ripples on a pond, they travel through all of Beartown, leaving no resident unaffected.
Beartown explores the hopes that bring a small community together, the secrets that tear it apart, and the courage it takes for an individual to go against the grain. In this story of a small forest town, Fredrik Backman has found the entire world."
My Review:
After reading A Man Called Ove last year, I have been trying to read as many of Fredrik Backman's books as I can. Having come from a small town, I thought I would really be able to connect with this book. It definitely was something that maybe my own parents would have connected to more having grown up in small hockey towns. While I didn't really connect with the characters like I did with A Man Called Ove, I really appreciated the dilemmas presented in this story. There are a lot of moral questions throughout the story as well as some tough subject matters. I did struggle a bit with the writing style with this one, the world and character building was done in chunks instead of interwoven in the story, we are presented with details about each character before the story got moving and we found out how they each were part of the story. By the time the story got started I was so confused as to who was who that it took me about half the book before I started figuring it out. I did finally manage to really enjoy some characters, particularly Amat, his mother, Benji and Kira. I did also like Maya until closer to the end of the story when she became a bit too fictional with reactions to situations that don't really fit her age or position. It was a good book, a difficult book to read but a good one and I do plan to read the next book just to find out how the town and team changes.
My Rating: While I did struggle quite a bit with this book, I did end up enjoying much of it. I love the setting and the realistic portrayal of a small town struggle. I give this one a rating of Two Paws and a Stump Wag.