I have been trying to figure out a way to share all these books I read with you but still include other non-review posts on the blog. One method I have come up with was to share the reviews for an entire series (or pair) of books in one post. I will do my absolute best to keep spoilers out of these posts in case you plan to read the books, but there is a slight chance that even the synopsis of a book can give away the result of the previous book. So if you don't want to know anything at all about the later books in a series that might giveaway something in the first book
STOP READING NOW!
I have seen this series around, it was really hyped last year when the first book came out but I never really picked it up. I recently was able to pick up Daughter of the Pirate King for a really good price and figured why not, it worked for my Duology Challenge. I must tell you that this series is the whole reason for the Arrg-ust month long event here! So on with the reviews. . .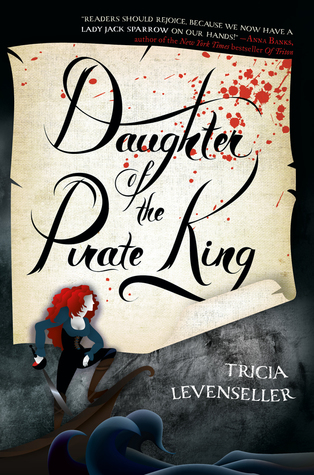 Synopsis: "There will be plenty of time for me to beat him soundly once I've gotten what I came for.
Sent on a mission to retrieve an ancient hidden map—the key to a legendary treasure trove—seventeen-year-old pirate captain Alosa deliberately allows herself to be captured by her enemies, giving her the perfect opportunity to search their ship.
More than a match for the ruthless pirate crew, Alosa has only one thing standing between her and the map: her captor, the unexpectedly clever and unfairly attractive first mate, Riden. But not to worry, for Alosa has a few tricks up her sleeve, and no lone pirate can stop the Daughter of the Pirate King."
My Review:
I have been hearing so much about this book and series, so when this went on sale I thought I would give it a shot. I listened to the audio book and it was okay, I probably should have read the print version because it was a bit too easy to gloss over and zone out while reading the book. I did really enjoy Alosa's personality, though I felt like we were told how powerful she is but only got to see a tiny bit, I really hope we get to actually see her being bad ass in the next book. Riden was a bit cliche but I still adored him. It was definitely a quirky and entertaining book to read with all the mishaps and banter. I will be picking up the second book.
My Rating: Since having read this book, I have seen a lot of other reviews and many people really enjoyed it more than I did. I still enjoyed it and give it a rating of Three Paws but it just didn't strike me as that amazing.
~~~~~~~~~~~~~~~~~~~~~~~~~~~~~~~~~~~~~~~~~~~~~~~~~~~~~~~~~
Synopsis:

"
Alosa's mission is finally complete. Not only has she recovered all three pieces of the map to a legendary hidden treasure, but the pirates who originally took her captive are now prisoners on her ship. Still unfairly attractive and unexpectedly loyal, first mate Riden is a constant distraction, but now he's under her orders. And she takes great comfort in knowing that the villainous Vordan will soon be facing her father's justice.
When Vordan exposes a secret her father has kept for years, Alosa and her crew find themselves in a deadly race with the feared Pirate King. Despite the danger, Alosa knows they will recover the treasure first . . . after all, she is the daughter of the Siren Queen."
My Review:
Even though I found the first book to be mediocre, when the library had this one available I thought I would continue anyway. I still found this one to be an okay book but I really felt like there was so much more potential. It was a really slow book, I didn't find the action to be overly exciting because it all seemed too quick for all the slow build up. Alosa does drive me a little crazy, but at the same time I can really appreciate the way her blood is a combination of two morally grey character types and opposing forces as well, and that battle between what is good and what is evil added enough interest to keep me reading. Riden fell completely flat for me, I really wanted to like him but he was really just there as a prop for Alosa. I think a younger teen audience would enjoy this book and series but it just missed the mark for me.
My Rating: I did really enjoy the couple of twists Levenseller put into this story but again I lacked a connection with the characters. I give this one a rating of Three Paws.
~~~~~~~~~~~~~~~~~~~~~~~~~~~~~~~~~~~~~~~~~~~~~~~~~~~~~~~~~
Full Series Review & Rating: After hearing how so many people really loved this series and finding myself not as blown away by it, I really sat down to think about just why it didn't rate highly with me. I did listen to both of these books on Audio and I had found Alosa so annoying and overly conceited; I have begun to wonder if it was possibly the narrator that gives me this impression. As of right now I give this series a rating of Three Paws, but I think I might try to revisit it after a little while and read the print formats instead and find out if I enjoy them more and get a different impression from Alosa. I do have to say though, that these covers are so beautiful, I love the art style; it is a clever way to feature a character on the cover without an actual picture and it really works.
Have you read the series? Do you think I should give it another try?