I have been trying to figure out a way to share all these books I read with you but still include other non-review posts on the blog. One method I have come up with was to share the reviews for an entire series (or pair) of books in one post. I will do my absolute best to keep spoilers out of these posts in case you plan to read the books, but there is a slight chance that even the synopsis of a book can give away the result of the previous book. So if you don't want to know anything at all about the later books in a series that might giveaway something in the first book STOP READING NOW!
So I have heard a ton of great things about this trilogy but I was rather intimidated by it and kept putting it off. I don't know exactly why I was intimidated, maybe the idea that it was inspired but Russia (language, culture and traditions), or maybe that I was worried about a trilogy and then a companion duology that seemed like it could drag on. Either way it kept me from jumping into this series for over a couple of years after hearing about it. But I found out that Leigh Bardugo would be coming to the Boston Teen Author Fest in September and knew I needed to read at least a few of the books she has written. Well, here are my thoughts . . . .
Synopsis:
"Surrounded by enemies, the once-great nation of Ravka has been torn in two by the Shadow Fold, a swath of near impenetrable darkness crawling with monsters who feast on human flesh. Now its fate may rest on the shoulders of one lonely refugee.

Alina Starkov has never been good at anything. But when her regiment is attacked on the Fold and her best friend is brutally injured, Alina reveals a dormant power that saves his life—a power that could be the key to setting her war-ravaged country free. Wrenched from everything she knows, Alina is whisked away to the royal court to be trained as a member of the Grisha, the magical elite led by the mysterious Darkling.

Yet nothing in this lavish world is what it seems. With darkness looming and an entire kingdom depending on her untamed power, Alina will have to confront the secrets of the Grisha . . . and the secrets of her heart.

Shadow and Bone is the first installment in Leigh Bardugo's Grisha Trilogy."
My Review:
For some reason I was very intimidated by this series and was hesitant to pick it up. I am glad I finally pushed myself to read it because it started off with a bang! This book drew me in right away and wouldn't let me go, the pages just kept turning and I couldn't put it down. The world building is so smooth that you don't even notice it happening and before you know it the word of Ravka is so well developed that it seems real. The characters are also well developed and you really grow to love them. I adore Alina, she is some what shy and a little naive but not overly so, she is also a realist and faces things head on. I am also a sucker for Mal, even though he seems like a pretty boy that uses her as a home base. I also really appreciate the twists that are thrown at you in the story, you think you are headed down a path and then all of the sudden things are turned on their heads and then another 180 is thrown at you, it makes for a fun and wild read. Definitely a series to binge read!
My Rating: What a knock you out of the part series opener. Some great characters, excellent world building and even some surprise twists! I give this book a rating of Four Paws and a Stump Wag!!
~~~~~~~~~~~~~~~~~~~~~~~~~~~~~~~~~~~~~~~~~~~~~~~~~~~~~~~~~~~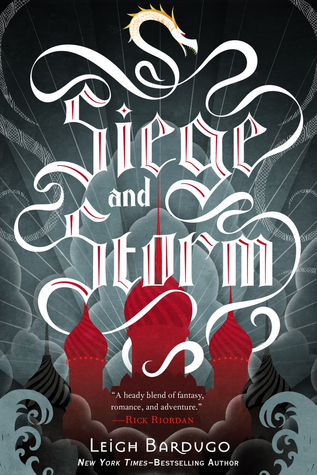 Synopsis:
"Darkness never dies.

Hunted across the True Sea, haunted by the lives she took on the Fold, Alina must try to make a life with Mal in an unfamiliar land. She finds starting new is not easy while keeping her identity as the Sun Summoner a secret. She can't outrun her past or her destiny for long.

The Darkling has emerged from the Shadow Fold with a terrifying new power and a dangerous plan that will test the very boundaries of the natural world. With the help of a notorious privateer, Alina returns to the country she abandoned, determined to fight the forces gathering against Ravka. But as her power grows, Alina slips deeper into the Darkling's game of forbidden magic, and farther away from Mal. Somehow, she will have to choose between her country, her power, and the love she always thought would guide her--or risk losing everything to the oncoming storm."
My Review:
I found this book to be a slightly slower read than the first book in the series, maybe not quite as engrossing but still very good. Alina & Mal's relationship got a little annoying and distracting, but luckily there was the introduction of some fantastic new characters. I adore Sturmhond, Taymar, Tullia (can't remember the exact spelling) and of course Nikolai. I did find Alina to still be really wishy washy and easily manipulated, you'd think she would learn. The Darkling's development was interesting and I still find him an intriguing character, I am really trying to decide exactly what his endgame is. There were some really great twists throughout this book, and the ending was also a bit surprising, I wasn't expecting such an escalation in the second book in a trilogy but it does remove it from that classic second book slump.
My Rating: This one had some ups and downs, still a great book but some of the main characters and story lines got a little annoying. Fortunately, there were some really fantastic new characters and some new twists to keep the pages turning and the next book eagerly awaited. I give this one a rating of Four Paws.
~~~~~~~~~~~~~~~~~~~~~~~~~~~~~~~~~~~~~~~~~~~~~~~~~~~~~~~~~~~~~~
Synopsis:
"The capital has fallen.

The Darkling rules Ravka from his shadow throne.

Now the nation's fate rests with a broken Sun Summoner, a disgraced tracker, and the shattered remnants of a once-great magical army.

Deep in an ancient network of tunnels and caverns, a weakened Alina must submit to the dubious protection of the Apparat and the zealots who worship her as a Saint. Yet her plans lie elsewhere, with the hunt for the elusive firebird and the hope that an outlaw prince still survives.

Alina will have to forge new alliances and put aside old rivalries as she and Mal race to find the last of Morozova's amplifiers. But as she begins to unravel the Darkling's secrets, she reveals a past that will forever alter her understanding of the bond they share and the power she wields. The firebird is the one thing that stands between Ravka and destruction—and claiming it could cost Alina the very future she's fighting for."
My Review:
Oh this book crushed me and then gave me hope and then crushed me and it kept repeating that cycle over and over. I wasn't really sure where this book was going to lead after the end of book 2 in the series. One thing I did guess correctly was where the search for the firebird would lead, I kept hoping the answer would be different. Some of the twists were nicely foreshadowed and some came out of no where to surprise you. One thing that I really liked about this book is the way that Bardugo played with the good and evil and all that grey area in between, each of the characters had bits of each and it was up to them as to the way they played their hands. With that the characters ended up having such depth to them that you couldn't help but connect with each of them. I also really loved how while the ending was wrapped up nicely, it wasn't a happily ever after for everyone, each suffered in some way and would have to find a way to move forward. If you haven't read this series yet, definitely give it a try! Oh and I suggest listening to it at least partially on audio to hear how to pronounce many of the words and names, it really helps.
My Rating: Such a roller coaster ride with this book and an outstanding conclusion to the series. While Alina was slightly annoying and some of the twists were foreshadowed enough to really be able to predict, there were still some to come out of no-where. I give this one a rating of Four Paws and a Stump Wag!!
~~~~~~~~~~~~~~~~~~~~~~~~~~~~~~~~~~~~~~~~~~~~~~~~~~~~~~~~~~~~~~~~~~~
Full Series Review & Rating: So as you can tell, this series completely consumed every moment of my life for a while. It was absolutely fantastic (even though I think it was the cause of my current reading slump). The world that was created was fully developed, unique and done so well you didn't really notice the building of it. The characters really made this story, I fell in love with so many of them, all of them were so well developed, had personality quirks, backstory and had a balance of good and evil in each of them. The story itself was again very much so a roller coaster ride with some crazy twists that will have you questioning what you know about the characters, as well as what is right and wrong. I will mention that the language is influenced by Russian and as a result some of the names and words are difficult to read. I did listen to these books partially on audio and was able to then read the print versions a little easier. I can't help but give this series a rating of Four Paws and a Stump Wag!
Have you read this series yet? If so, who was your favorite character? Did you read the companion duology, Six of Crows and Crooked Kingdom? Tell me some of the books you have read that leave you wanting to only read them and nothing else will do?