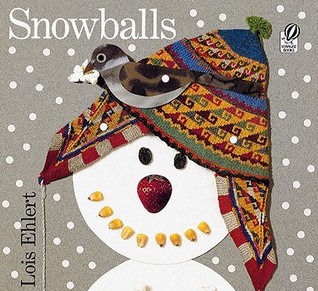 Read for: Children's Book Challenge
Synopsis: "Pull on your mittens and head outside for a snowball day. Grab some snow and start rolling. With a few found objects--like buttons and fabric and seeds--and a little imagination, you can create a whole family out of snow. Children will love poring over Lois Ehlert's bold, funny illustrations and identifying the common (and not so common) objects she uses to decorate her snowy family."

My Review: I guess I was expecting this book to be about snowballs and not snowmen, while that caught me a little off guard it was still a great book. Munchkin loved seeing the snowmen, boys, girls, dog and cat. The use of various items that had been saved up really sparked his own creativity. He had to make a snowman for preschool and with all the ideas throughout the book he created a really unique snowman using buttons, beans, ribbon, popcorn and paper. The book also has facts about snow at the end and photographs of snowmen that were made by other families.
My Rating: While it wasn't exactly what I was expecting it turned out to be a great book to spark creativity and learning. We give it a rating of Four Paws!
Good Night! Sweet Dreams!