I have been trying to figure out a way to share all these books I read with you but still include other non-review posts on the blog. One method I have come up with was to share the reviews for an entire series (or pair) of books in one post. I will do my absolute best to keep spoilers out of these posts in case you plan to read the books, but there is a slight chance that even the synopsis of a book can give away the result of the previous book. So if you don't want to know anything at all about the later books in a series that might giveaway something in the first book
STOP READING NOW!
So I finally gave into the hype and read both Cruel Prince and Wicked King. I had heard so many great things and people have been raving about this series, I gave in so much that I even ordered a Hangover Kit from Faecrate before I read either book. So what do I think?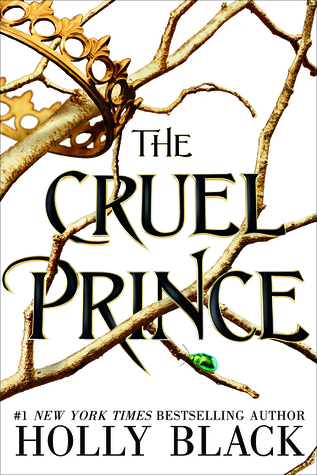 Synopsis:
"
Of course I want to be like them. They're beautiful as blades forged in some divine fire. They will live forever.
And Cardan is even more beautiful than the rest. I hate him more than all the others. I hate him so much that sometimes when I look at him, I can hardly breathe.
Jude was seven when her parents were murdered and she and her two sisters were stolen away to live in the treacherous High Court of Faerie. Ten years later, Jude wants nothing more than to belong there, despite her mortality. But many of the fey despise humans. Especially Prince Cardan, the youngest and wickedest son of the High King.
To win a place at the Court, she must defy him–and face the consequences.
As Jude becomes more deeply embroiled in palace intrigues and deceptions, she discovers her own capacity for trickery and bloodshed. But as betrayal threatens to drown the Courts of Faerie in violence, Jude will need to risk her life in a dangerous alliance to save her sisters, and Faerie itself."
My Review:
I know I am much later to this party than most YA fantasy readers, but I wasn't sure if I would be interested, but of course I caved. I have to say that nearly all the characters in this book are unlikable, but oddly enough I am okay with it. The brutality of the Fae world is clear in this book and it keeps up throughout and I appreciate that element. I do find the attraction between characters to be awkward and I don't really see why it is necessary to the plot. The subtleties of the court and the intricacies of the spoken and written word was fantastic to read and one of my favorite parts. I will continue and read Wicked King but I can't say that it is high on my list.
My Rating: I enjoyed the brutal reality presented in the story and how blows are not softened and characters are not sugar coated. I am intrigued by where this could go. I give it a rating of Three Paws.
~~~~~~~~~~~~~~~~~~~~~~~~~~~~~~~~~~~~~~~~~~~~~~
Synopsis: "You must be strong enough to strike and strike and strike again without tiring.
The first lesson is to make yourself strong.
After the jaw-dropping revelation that Oak is the heir to Faerie, Jude must keep her younger brother safe. To do so, she has bound the wicked king, Cardan, to her, and made herself the power behind the throne. Navigating the constantly shifting political alliances of Faerie would be difficult enough if Cardan were easy to control. But he does everything in his power to humiliate and undermine her even as his fascination with her remains undiminished.
When it becomes all too clear that someone close to Jude means to betray her, threatening her own life and the lives of everyone she loves, Jude must uncover the traitor and fight her own complicated feelings for Cardan to maintain control as a mortal in a Faerie world."
My Review:
Well, I read it. I have to say I was okay with Cruel Prince and had already ordered this book so figured I might as well read it. I do enjoy that the brutality of the world is kept intact and doesn't wain as the series continues. I also appreciate all the minute manipulations and strategies with in the world. The issue I have is I really don't care for the characters, I don't care what happens to any of them. They are completely unreliable. All in all I appreciate what has been done with this world but I am not drawn in or passionate about it or those within.
My Rating: I do appreciate what is done with this series, unreliable characters, brutal world, no happily ever after (so far) but at the same time, it would be nice to have someone to care about and root for otherwise what is the point. Sadly, I give this one a rating of Two Paws.
~~~~~~~~~~~~~~~~~~~~~~~~~~~~~~~~~~~~~~~~~~~~~~
Overall Review: Well, I do really like to see authors pushing for darker books with not so happy endings but if we aren't enjoying something then there is no point in reading. I didn't like any of the characters, none of them seem to have any redeeming qualities. I am glad that others are enjoying it so much but it was just not for me. I give it an overall rating of Two Paws and a Stump Wag. I may read the next book in the series next year when it comes out but it will not be high on the priority list and will probably be forgotten by then anyway.
If you enjoyed the series, what did you like about it? Or do you agree with me?