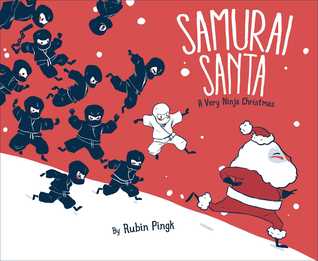 Read for: Children's Book Challenge
Synopsis:
"
It's Christmas Eve and all Yukio wants is an EPIC SNOWBALL FIGHT.
But when his friends are too worried about being good little ninjas to join in, Yukio wants to sabotage Santa.
Can Yukio chase the man in red out of town? And what will happen to the other ninjas' Christmas wishes?"
My Review:
I picked this one up for Munchkin this year and figured it would be a fun Christmas book. It was fun, but not quite as silly and funny as I expected it to be, it was more serious than I thought. Munchkin did love the snowball fight but the samurai reference went a bit over his head and he didn't connect it with Santa. That being said, young martial arts fans who understand it a little more will really love this book.
My Rating: I thought after enjoying North Pole Ninjas that this would be another one that Munchkin enjoyed, but it wasn't really for us. We give it a rating of Two Paws and a Stump Wag.
Good Night! Sweet Dreams!