I have been trying to figure out a way to share all these books I read with you but still include other non-review posts on the blog. One method I have come up with was to share the reviews for an entire series (or pair) of books in one post. I will do my absolute best to keep spoilers out of these posts in case you plan to read the books, but there is a slight chance that even the synopsis of a book can give away the result of the previous book. So if you don't want to know anything at all about the later books in a series that might giveaway something in the first book STOP READING NOW!
For this review I read the books that are currently out in the Searching For series by Jennifer Probst (there is another book being released late November or December). This series so far has consisted of 4 full length books and 1 novella. You do encounter characters from her Marriage to a Billionaire series but it is not necessary to read that series first.
Synopsis:
"Kate has given up on love—at least for herself. She is both blessed and cursed with the ability to sense a romantic connection between two people—a gift that her family passed down for generations. When Kate launches her own matchmaking company, Kinnection, with her two best friends in a cozy New York town, she has to put aside her own romantic disasters to make her business a success.

But when a furious man stalks into her office and accuses her business of being a scam, Kate is given the ultimate challenge to prove herself. Slade puts himself in her hands and asks Kate to find him love. Enraged at his arrogance but stubbornly eager to prove herself, Kate agrees, dedicating herself to the journey of finding him love... only to find herself falling for him along the way."

My Review: I have been a fan of Probst for a while now and I have been waiting for a time when I can read all the books in this series without having to wait. I do wish I had read it shortly after the Married to a Billionaire series because I did take a while to familiarize myself with some of the returning characters, but I was insanely excited when they did reappear briefly (I was especially excited with the Book of Spells). I found both Kate and Slade to be great characters with fully developed personalities and backstories. I did feel like Slade made some rather drastic changes but it is fiction. Of course Robert was adorable and I love how Probst always manages to squeeze a rescue animal into her stories. This was a really enjoyable read, perfect for summer relaxing.
My Rating: I really enjoyed this book, it was a great kick off to the series and I loved the tiny bit of integration of the previous series (mainly because I loved it so much). I give this book a rating of Four Paws.
~~~~~~~~~~~~~~~~~~~~~~~~~~~~~~~~~~~~~~~~~~~~~~~~~~~~~~~~~~~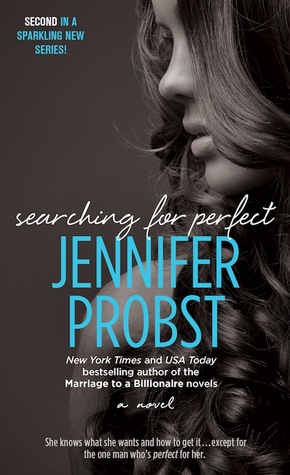 Synopsis:
"The up-and-coming matchmaking agency Kinnections is the hottest thing to hit Verily, New York—just like Kennedy Ashe, social director for the service she owns with her two best girlfriends. A coach, consultant, and cheerleader rolled into one super-sizzling package, Kennedy creates dream dates, encourages singles to shine, and never refuses a challenge—not even Nate Ellison Raymond Dunkle, rocket scientist, nerd extraordinaire, and Kennedy's newest client.

Kennedy vows to work her magic and transform this hot mess in a lab coat with a disastrous relationship track record into the most wanted man on the Verily dating scene. If only she could turn the wand on herself . . .

Though she radiates confidence and sex appeal, Kennedy harbors deep-seated insecurities from a tormented past and lifelong struggle with weight issues. When she realizes she and Nate are cut from the same cloth and might be perfect together, can Kennedy learn to let her heart lead the way? Or will her fears sentence her to the sidelines as Nate finds love—with someone else?"

My Review: I am definitely enjoying this series so far, Probst never fails me. I wasn't a huge Kennedy fan in the previous book so it was nice to get to know her under the flawless cover. I really enjoyed Nate, he was a fun and quirky character (definitely a fictional crush), he might have almost been too perfect at times. Their journey was similar to Kate & Slade's but it did have its little differences, so it wasn't quite like reading the same story line again. Some of the sub-characters have me a little curious too, I would love to know what happens with Connor. All in all a good, fun, light romance, it is a great summer read.
My Rating: Another great installment to the series. I absolutely loved Nate and grew to enjoy Kennedy. I give this a rating of Four Paws.
~~~~~~~~~~~~~~~~~~~~~~~~~~~~~~~~~~~~~~~~~~~~~~~~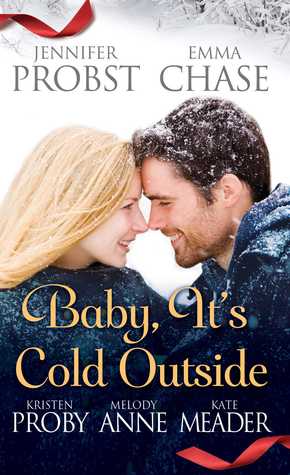 Synopsis:
"Searching for You

Can a determined woman executive and a playboy billionaire survive being stranded together in a snowstorm? Jennifer Probst depicts an encounter almost too hot to handle..."
My Review (of the Searching for You Novella only - full book review to be posted later): I really enjoyed this novella (though as I have said before I hate when mid series novellas are combined with other authors and novellas). While it is clearly part of this series, it feature characters outside of the series so it could be read entirely on its own. I also love the idea of the second chances/ the one that got away idea. It was fun and light and very enjoyable.
My Rating: I thoroughly enjoyed this one (and it kind of put me in the holiday spirit - a little early). I give it a rating of Four Paws.
~~~~~~~~~~~~~~~~~~~~~~~~~~~~~~~~~~~~~~~~~~~~~~~~~~~~~~~~~~~~~~~~~~~~~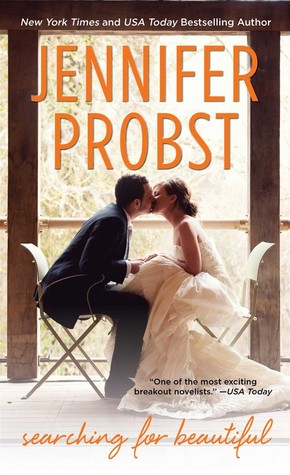 Synopsis:
"The highly anticipated third novel in the Searching For series from Jennifer Probst, "one of the most exciting breakout novelists" (USA Today), featuring a runaway bride and the man who wants to be more than just her best friend...

Genevieve MacKenzie has her life completely under control. About to wed the charming Chief doctor at the local hospital, she's an up-and-coming surgeon with everything she could ever want. Until an escape through the church window on the day of her wedding sends her life into a tailspin...and flings her right into her best friend's arms.

When Wolfe catches his best friend falling out a window on her wedding day, he doesn't ask questions. He whisks her away, determined to watch over her and discover the truth behind her desperate escape. But when his feelings turn more than platonic, he realizes he may risk his most important relationship in order to protect his damaged heart, and the woman he loves.

Can Genevieve and Wolfe's friendship turn into something deeper—or is it already too late for true love?"

My Review: First thing, I wasn't a huge fan of this cover compared to the previous 2 books. I usually like a whole series to be in the same format but with this one the covers are so drastically different it didn't appeal to me to have them on a shelf together (not saying that the cover isn't beautiful, it is just so different from the original 2). So I ended up downloading the audio version, it definitely wasn't a let down there. I enjoyed the narrator, she did a fantastic job with the different voices and tones of the story. This was a book that you just couldn't put down. Probst took on a much darker and more serious subject matter with this book than I am used to but she did a great job with it. I loved the development of both Wolfe and Gen as the story progressed. Might end up being my favorite of the series.
My Rating: I can't rave about this book enough, I loved how Probst dealt with some really tough issues while still producing such an enjoyable read. I give it a rating of Four Paws and a Stump Wag!
~~~~~~~~~~~~~~~~~~~~~~~~~~~~~~~~~~~~~~~~~~~~~~~~
Synopsis: "She's an expert in helping others de-stress, but Arilyn Meadows is running on fumes. Along with her job counseling singles seeking soul mates at the Kinnections agency in Verily, New York, she's a yoga teacher, animal shelter volunteer, anger management therapist, and helping hand to her beloved grandfather. No time to find Mr. Right—but after discovering her yogi boyfriend in a compromising asana, Arilyn would rather dog-sit for her honeymooning friend Kate than risk her heart on another downward dog. And when police officer Stone Petty—radiating masculinity and bad-boy attitude—is sent to her for mandatory lessons in cooling off when the job gets too hot, Arilyn vows to ignore his seductive glances and sexy grin. But there's no halting their sizzling flirtation—a red-hot, high-speed chase that's breaking all the limits."

My Review: Compared to the previous book (Searching for Beautiful featuring Gen and Wolf) this book was a little bit of a let down. I really didn't get a feel for the characters or their connection throughout the book. I was listening to the audio version and it was the same narrator as the previous book so it really wasn't her fault that the back and forth between the characters fell flat. Normally Probst blows me away and I can't stop reading, I enjoy every minute of her books but for some reason this book just really felt like it was skimming the surface and there wasn't a lot to work with while reading. It still had many of the same elements, opposing characters just drawn together by some force, the supportive friends, the shelter dogs and animals, and the eventual realization of the future together. It may be more enjoyable to other readers or maybe in a different mood but I just didn't connect with this one.
My Rating: I am really not sure what happened here, there was definitely a lack of connection, either with me and the book or with the characters in the book. I unfortunately am giving it a rating of Three Paws.
~~~~~~~~~~~~~~~~~~~~~~~~~~~~~~~~~~~~~~~~~~~~~~~~~
Series Review: Ever since I discovered Jennifer Probst's work I have loved everything by her. I was a little stunned to find something that I didn't enjoy so much but on a whole the series was fantastic. My one complaint was that the covers were so drastically different between the first two books and the rest and I ended up not liking them so much and purchased them in different formats. This series is all about romance, there is substance in means of 'baggage' of the characters that give the stories some depth but these are definitely romance stories. I also love how big Probst is on rescue animals, there is an animal or a shelter mentioned in most of her books and I know in the past with one of her book sales some of the proceeds went to a shelter (definitely something I can get behind).
I give this series on a whole a rating of Four Paws.