Welcome to Children's Book Week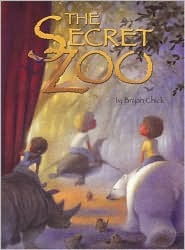 Synopsis: "When three friends link a girl's disappearance to unusual activity at their local zoo, they discover that each exhibit holds a hidden passage to a secret zoo kingdom. To rescue their friend, the children must band with the animals, enter this mysterious world, and embark on an exciting adventure in the first book of an epic series for middle-grade readers."

My Review: What a fantastic middle grade book! I absolutely loved it and couldn't put it down. There is something that taps into the fantasy of everyone, animals, magic, science, great friendships, I could go on and on. Boys and girls a like with enjoy the story. I honestly can't find anything to fault this book and can't wait to gather the rest of the series for myself or for when Munchkin can read them.
My Rating: Quite the fantastic adventure for even the most reluctant of readers. I give it a rating of Four Paws and a Stump Wag.