I have been trying to figure out a way to share all these books I read with you but still include other non-review posts on the blog. One method I have come up with was to share the reviews for an entire series (or pair) of books in one post. I will do my absolute best to keep spoilers out of these posts in case you plan to read the books, but there is a slight chance that even the synopsis of a book can give away the result of the previous book. So if you don't want to know anything at all about the later books in a series that might giveaway something in the first book
STOP READING NOW!
I have seen this series around for a while but never was really interested in picking it up. I had heard that it was really dense reading and honestly the original covers were not very appealing. But last year I had seen an interview with Megan Whalen Turner posted (I think on Goodreads with the cover reveal for Return of the Thief) and became really intrigued. I started picking up the books here and there as I found them with the new covers. I finally got around to reading them this month, I did end up reading the print versions along with borrowing the audio books from the library. I recommend the audio books, they are great but to keep track of all the little nuances in the writing, I suggest the print books so you can flip back when you hit those ahha moments. So on with the reviews . . .
Synopsis:
"
The king's scholar, the magus, believes he knows the site of an ancient treasure. To attain it for his king, he needs a skillful thief, and he selects Gen from the king's prison. The magus is interested only in the thief's abilities.
That Gen is interested in is anyone's guess. Their journey toward the treasure is both dangerous and difficult, lightened only imperceptibly by the tales they tell of the old gods and goddesses."
My Review:
I don't know why I took so long to pick this series up, I had heard that the first book was long and tedious to read but it was actually pretty short and rather fun to read. I enjoyed Gen and the other characters, their banter was entertaining. True there didn't seem to be a lot of world building, you don't get a sense of the political dynamics until late in the book. Being a thief, Gen is a little bit unreliable as a character, he has a lot of secrets that seem to be slowly coming out. I honestly didn't see the twist coming and loved it! I am looking forward to continuing this series!
My Rating: Being my first introduction to the series and Turner's writing, I was a bit skeptical at first but it was so worth it. I love the intricacies and the little tidbits when you look back at the book after finishing it. I give it a rating of Four Paws.
~~~~~~~~~~~~~~~~~~~~~~~~~~~~~~~~~~~~~~~~~~~~~~~~~~~~~~~~~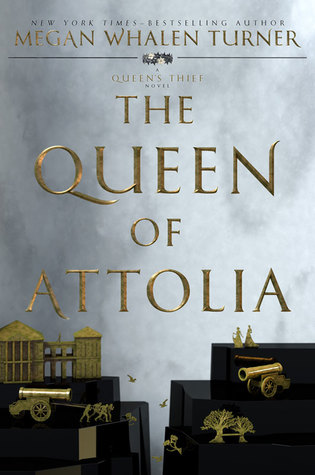 Synopsis:
"
The brilliant thief Eugenides has visited the Queen of Attolia's palace one too many times, leaving small tokens and then departing unseen. When his final excursion does not go as planned, he is captured by the ruthless queen. The Queen's Thief novels have been praised by writers, critics, reviewers, and fans and have been honored with glowing reviews, "best of" citations, and numerous awards, including the Los Angeles Times Book Prize, a Newbery Honor, the Andre Norton Award shortlist, and the Mythopoeic Fantasy Award. Discover and rediscover the stand-alone companions,
The Queen of Attolia
,
The King of Attolia
,
A Conspiracy of Kings
, and
Thick as Thieves,
all epic novels set in the world of the Queen's Thief."
My Review:
I am really enjoying this series so far! I love all the tactical and political maneuvering in this one. The dynamics between the countries and they ways they are constantly trying to outwit one another is so fascinating to me. The great part is that with all the political and war happenings, we still don't loose the connection with the characters. Gen is awesome and constantly surprises you with how he reacts and what he is up to behind the scenes. His relationship with the various other characters is so dynamic. The details are all important, every look, every sentence, every historical detail comes into play somewhere along the lines, it really makes you pay attention and try to figure out how it will all come into play. I am immediately picking up the next book!
My Rating: Looking back, this might be my favorite of the series, I loved the dynamics in play between the countries. I give it a rating of Four Paws and a Stump Wag!
~~~~~~~~~~~~~~~~~~~~~~~~~~~~~~~~~~~~~~~~~~~~~~~~~~~
Synopsis: "By scheming and theft, the Thief of Eddis has become King of Attolia. Eugenides wanted the queen, not the crown, but he finds himself trapped in a web of his own making.
Then he drags a naive young guard into the center of the political maelstrom. Poor Costis knows he is the victim of the king's caprice, but his contempt for Eugenides slowly turns to grudging respect. Though struggling against his fate, the newly crowned king is much more than he appears. Soon the corrupt Attolian court will learn that its subtle and dangerous intrigue is no match for Eugenides."
My Review:
I know Gen is a little bit of an unreliable character, but I have learned not to discount him. However Attolia is still new to me and I could see the path I was being guided down. I kind of felt like Costis, a little confused, lost and dragged from one side to the other, up and down tower stairs. I did find the inner court politics a little more difficult to follow as opposed to the political dynamic between the three countries. You really need to almost take notes to follow all the intricacies and follow all the names. It is hard to write a review without giving any of the twists away, but leave it at this, I will forever adore Gen, I have grown to love and appreciate Attolia and Magus is still the coolest character.
My Rating: I enjoyed this one, maybe not as much as Queen of Attolia, just because of trying to keep track of all the Barons and players in Attolia's courts (note: the print version I have with this cover has a full list of characters & a map at the back). I give it a rating of Four Paws.
~~~~~~~~~~~~~~~~~~~~~~~~~~~~~~~~~~~~~~~~~~~~~~~~~~~~~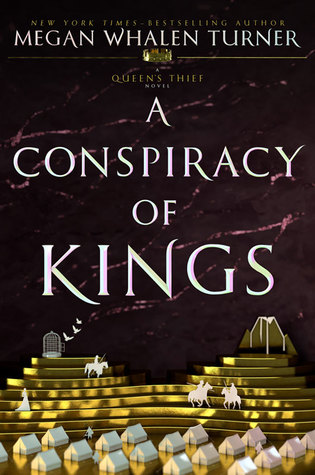 S

ynopsis:

"

After an attempted assassination and kidnapping, Sophos, heir to the throne of Sounis, disappears. Those who care for him—including the thief Eugenides and the Queen of Eddis—are left to wonder if he is alive and if they will ever see him again. The Queen's Thief novels have been praised by writers, critics, reviewers, and fans and have been honored with glowing reviews, "best of" citations, and numerous awards, including the Los Angeles Times Book Prize, a Newbery Honor, the Andre Norton Award shortlist, and the Mythopoeic Fantasy Award. Discover and rediscover the stand-alone companions,

The Queen of Attolia

,

The King of Attolia

,

A Conspiracy of Kings

, and

Thick as Thieves,

all epic novels set in the world of the Queen's Thief."
My Review:
I have been consuming this series nearly back to back so I was a little surprised by the shift in perspective from Gen to Sophos, though I was really happy to see him on the page again. As much as I missed Gen, I really did enjoy watching Sophos' character develop in so many ways throughout his adventures. As with all the previous books in the series, you really have to keep your eye open for all the little tidbits that seem like toss off details, that later become intricate to the plot. As like with King of Attolia, there are a lot of barons to keep track of and try to follow the inner court politics that are unfamiliar but you do become familiar with the major players. I have to say though it was so satisfying when the hinted at crush from way back in book one and hinted at in the other books finally steps into the light. I did however expect that Magus would have played more of a role in this one, I was missing his wisdom, of course served with a a side of snark.
My Rating: While I missed seeing all that was going on with Gen, I did enjoy catching up with Sophos and seeing some of the early plot lines start coming together. I give this one a rating of Three Paws and a Stump Wag.
~~~~~~~~~~~~~~~~~~~~~~~~~~~~~~~~~~~~~~~~~~~~~~~~~~~~~~
Synopsis:
"
Deep within the palace of the Mede emperor, in an alcove off the main room of his master's apartments,. Kamet minds his master's business and his own. Carefully keeping the accounts, and his own counsel, Kamet has accumulated a few possessions, a little money stored in the household's cashbox, and a significant amount of personal power. As a slave, his fate is tied to his master's. If Nahuseresh's fortunes improve, so will Kamet's, and Nahuseresh has been working diligently to promote
his
fortunes since the debacle in Attolia.
A soldier in the shadows offers escape, but Kamet won't sacrifice his ambition for a meager and unreliable freedom; not until a whispered warning of poison and murder destroys all of his carefully laid plans. When Kamet flees for his life, he leaves behind everything—his past, his identity, his meticulously crafted defenses—and finds himself woefully unprepared for the journey that lies ahead.
Pursued across rivers, wastelands, salt plains, snowcapped mountains, and storm-tossed seas, Kamet is dead set on regaining control of his future and protecting himself at any cost. Friendships—new and long-forgotten—beckon, lethal enemies circle, secrets accumulate, and the fragile hopes of the little kingdoms of Attolia, Eddis, and Sounis hang in the balance."
My Review:
I was again surprised by a new character's point of view as opposed to Gen's (and during such a critical time for him). While Kamet's character development throughout this book is interesting, he just doesn't have enough spark for me. I did like Costis in this one but again, I was missing that something extra that I have come to expect. We do still get some twists and ah ha moments at the tail end of the book but it didn't seem as intricate as previous books. With that said there are some pretty substantial developments in the overall series story arc that are pretty great. I am rather glad that I waited to read all of these books at once to keep the details and characters familiar, and I am ready for that final book!
My Rating: Another shift in perspective threw me off again, and I was not all that intrigued by Kamet or Costis, though the development of Kamet's character was interesting to follow, it just didn't capture me quite like the other books. I guess I was missing all the intrigue and politics, so I give it a rating of Three Paws.
~~~~~~~~~~~~~~~~~~~~~~~~~~~~~~~~~~~~~~~~~~~~~~~~~~~~~~~
Full Series Review: I was so pleasantly surprised with this series, I don't know why none of you were pushing me to read it! I loved all the politics and war counsel moves, and the totally unreliable character of Gen. I loved all the twists and the ah ha moments when all those little details that seemed so inconsequential came into play. While this series definitely isn't for everyone, those who are into those tiny details and political style books will really enjoy it. I did notice that this series is written for YA readers, but honestly it didn't read as a YA book to me, it may be that the series started back in the 90s so it isn't like the YA books now that seem to need constant action and movement for readers to enjoy (don't get me started on the whole need for instant gratification mode making its way into our books). Also, something I guess I didn't note in my individual reviews, Turner went to great lengths to develop this world, each country has a clear culture along with whole belief systems, interwoven throughout all the books are even full myths and folktales and rhymes for the countries! I would love a book of just those collected together as a novella for the series. I have to say I am so glad I finally picked this series up, but I am relieved that I don't need to wait forever for the final book to come out next month (I already have my copy pre-ordered in both print and audio book)!