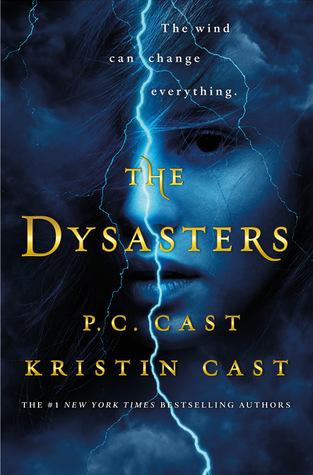 Read for: Requested Review & I loved the House of Night Series
Synopsis:
"
Foster Stewart knows she's different. Her life has never been "normal." Talking to plants and controlling cloud formations aren't things most seventeen year olds are into. Tate "Nighthawk" Taylor is perfect. Star quarterback and all around dreamy boy next door he never thought about his "extra" abilities. What quarterback wouldn't want night vision? That's not weird, right? It's cool!
But on the night of their first meeting a deadly tornado brings them together and awakens their true abilities - the power to control the element air. Unbeknown to Tate and Foster, they are the first in a group of teens that were genetically manipulated before birth to bond with the elements. Which truly sucks for Foster, as she has to face the fact that Dr. Rick Stewart, her beloved scientist father, betrayed her and now wants to use her and the others for his own nefarious world domination plot.
Foster and Tate must stop Dr. Stewart and his minions before he destroys their lives and the world."
My Review:
I really enjoyed the House of Night series by P.C. Cast and Kristin Cast, so jumped at the opportunity to read the first book in a new series from them. We jump right into the story and it did take me a bit to settle in and get used to know the characters and what was going on, I would have preferred a little more lead up information. The characters do all have very bold and vibrant personalities, each with individual quirks. I honestly wasn't a fan of Foster's attitude but it does improve throughout the story and I grow to like her. There is also quite a diverse cast of characters and that is nicely blended with the story. The best part was the various pop culture references, and they are from several different generations, including Star Wars, 90s cartoons, Motown and more; I about died of joy when they started singing Rockin' Robin! It was a fun first book in a series and will be a great book for fans of Super Hero books. Oh, and I almost forgot to mention it has illustrations throughout, in a comic book style, which really worked with the theme of the book.
My Rating: I did enjoy this one, it was a fun combination of X-men like story and a variety of pop culture references. I did find that it read a little simplistic, if it weren't for some of the violent events and darker references I would almost say it could be a Middle Grade book. I give it a rating of Three Paws.
A special thank you to Wednesday Books and St. Martin's Press for sending me a complimentary copy of The Dysasters, the above is my honest review and opinion.


About the Authors
#1
New York Times
& #1
USA Today
bestselling author P.C. Cast was born in the Midwest, and, after her tour in the USAF, she taught high school for 15 years before retiring to write full time. PC is a member of the Oklahoma Writers Hall of Fame. Her novels have been awarded the prestigious: Oklahoma Book Award, YALSA Quick Pick for Reluctant Readers, Romantic Times Reviewers' Choice Award, Booksellers' Best, and many, many more. Ms. Cast is an experienced teacher and talented speaker who lives in Oregon near her fabulous daughter, her adorable pack of dogs, her crazy Maine Coon, and a bunch of horses.
Kristin Cast is a #1 New York Times and #1 USA Today bestselling author who teams with her mother to write the wildly successful House of Night series. She has editorial credits, a thriving t-shirt line, and a passion for all things paranormal. When away from her writing desk, Kristin loves going on adventures with her friends, family, and significant other, playing with her dogs (Grace Kelly and Hobbs the Tiny Dragon), and is currently obsessed with her baby.
The Dysasters was just released on Tuesday, February 26th so you can now purchase your own copy at any of these book providers:
And for more fun along the tour check out #TheDysasters on all social media or
follow Wednesday Books for the latest
(an example of the art style throughout the book)
Finally don't forget to enter for your chance to win a hardcover copy of The Dysasters!
Fine Print Rules: No purchase necessary. Open only to legal residents of the 50 United States, the District of Columbia or Canada (excluding Quebec) who are age 13 years of age or older. Entry period begins at 12:00 a.m. (ET) on Sunday, February 24, 2019 and ends at 11:59 PM ET on Sunday, March 10, 2019. Void where prohibited. For full Official Rules, visit https://read.macmillan.com/promo/thedysastersblogtoursweepstakes. Sponsored by St. Martin's Press, 175 5th Ave 10010.