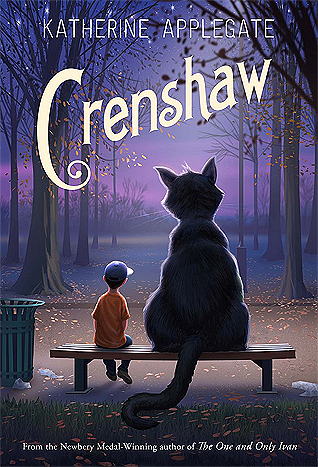 Read for: Borrowed Books
Synopsis:
"
In her first novel since winning the Newbery Medal, Katherine Applegate delivers an unforgettable and magical story about family, friendship, and resilience.
Jackson and his family have fallen on hard times. There's no more money for rent. And not much for food, either. His parents, his little sister, and their dog may have to live in their minivan. Again.
Crenshaw is a cat. He's large, he's outspoken, and he's imaginary. He has come back into Jackson's life to help him. But is an imaginary friend enough to save this family from losing everything?
Beloved author Katherine Applegate proves in unexpected ways that friends matter, whether real or imaginary."
My Review:
Katherine Applegate hits it out of the park again! I really loved the two previous books I have read, Home of the Brave & Wishtree, so really wanted to give this one a try and I am so glad I did. I loved the idea behind it, an imaginary friend returns to help Jackson through a tough time. I loved this look at how adult issues actually affect the whole family and the stress it puts on kids not to know what is going on. I really enjoyed the family connection between Jackson, his sister and their family, there are struggles within the family but they are still a unit. Crenshaw seems like a great imaginary friend, goofy yet serious when needed. I really enjoyed this one and can't wait to share it with Munchkin!
My Rating: I am officially adding Katherine Applegate to my favorite author list! I loved this one so much, it is a great one for parents and kids to read together, there is so much packed into this story, emotions, lessons, family connections, struggles and strengths. I give it a rating of Four Paws and a Stump Wag!!