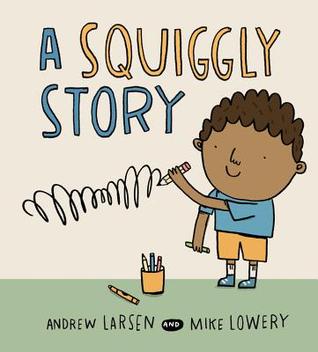 Read for: Requested Review/ Netgalley/ Children's Books
Synopsis: "A young boy wants to write a story, just like his big sister. But there's a problem, he tells her. Though he knows his letters, he doesn't know many words. "Every story starts with a single word and every word starts with a single letter," his sister explains patiently. "Why don't you start there, with a letter?" So the boy tries. He writes a letter. An easy letter. The letter I. And from that one skinny letter, the story grows, and the little boy discovers that all of us, including him, have what we need to write our own perfect story.

This picture book from award-winning author Andrew Larsen playfully and imaginatively explores a young child's process of learning to express himself. It promotes the idea that stories are available for everyone to tell, whatever way we can, and will inspire pre-readers to try writing stories of their own. The lively, fun illustrations by Mike Lowery incorporate story panels with dialogue bubbles, adding visual texture. Also helpful, the boy's story is shown both as he actually writes it --- with just a few letters, some punctuation marks and typographical symbols --- and as he imagines it. Celebrating self-expression, self-discovery and imagination, this book would enhance an early language arts lesson on writing, particularly on the parts of a story. It beautifully highlights the exciting worlds that are opened up when children begin to read and write. In a sweet touch, the boy and his sister model a close and supportive sibling relationship."

My Review: I don't think I can rave about this book enough, what a great concept for a children's book and beautifully executed as well. It encourages young readers to start writing their own stories even when they don't have the ability to write words yet. This might be one of my favorite children's books of the year so far and while Munchkin didn't quite grasp it the first time reading, he has asked for it to be read again.
My Rating: I loved the concept of this story and the execution was exactly as I had hoped for in it. This is a great book to not only encourage reading but also creativity, imagination and children starting to create their own stories. We give this book a rating of Four Paws and a Stump Wag!!
I received this book from Netgalley in exchange for an honest review.
To find more books by Andrew Larsen you can check out his Goodreads Page and more books illustrated by Mike Lowery you can check out his Goodreads Page.
A Squiggly Story was just recently released in September and you can obtain your own copy in print or digital formats from Amazon or Barnes and Noble or check your favorite book store.