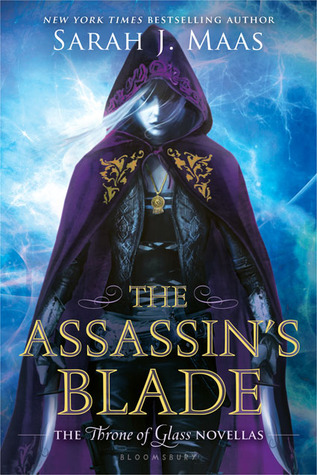 Read for: Series Challenge & Mount TBR
Synopsis: "Contains all five novellas.

Celaena Sardothien is Adarlan's most feared assassin. As part of the Assassin's Guild, her allegiance is to her master, Arobynn Hamel, yet Celaena listens to no one and trusts only her fellow killer-for-hire, Sam. In these action-packed novellas - together in one edition for the first time - Celaena embarks on five daring missions. They take her from remote islands to hostile deserts, where she fights to liberate slaves and seeks to avenge the tyrannous. But she is acting against Arobynn's orders and could suffer an unimaginable punishment for such treachery. Will Celaena ever be truly free? Explore the dark underworld of this kick-ass heroine to find out."

My Review: I did enjoy this novella, it was good to read the stories that are often referred to in the series as flashbacks. While I still dislike Celaena a lot and find her personality to be completely forced, I found the adventures to be better than at least the first book. I would also suggest holding off reading this book at least until after the 2nd book. I absolutely loved Sam though and can understand while he is still almost a character in the other books even though he was long since gone. It is a good collection of stories to give some background into many of the characters in the series. It also gives a little more of a glimpse of Celaena actually doing what she is supposed to do as an assassin.
My Rating: I think I finally discovered why I am not a fan of this series, Celaena's personality is the problem. I don't mind her being vain or overly arrogant, it is that it is a false and forced personality flaw by the author. Through the storyline and writing again and again these personality traits that are constantly repeated are proven false. I was glad to finally discover that through this book and was happy for more action but it still just isn't up to par for me. I give it a rating of Three Paws.