I have been trying to figure out a way to share all these books I read with you but still include other non-review posts on the blog. One method I have come up with was to share the reviews for an entire series (or pair) of books in one post. I will do my absolute best to keep spoilers out of these posts in case you plan to read the books, but there is a slight chance that even the synopsis of a book can give away the result of the previous book. So if you don't want to know anything at all about the later books in a series that might giveaway something in the first book STOP READING NOW!
So for my first series review we have the Glass Series by Maria V. Snyder. It is part of the larger Chronicles of Ixia series which started with the Study Series and will be followed by the SoulFinders series that has just started being released. I will review each book in the series and at the bottom will review the series as a whole. This is a test run of this type of review so please let me know if you like it or not.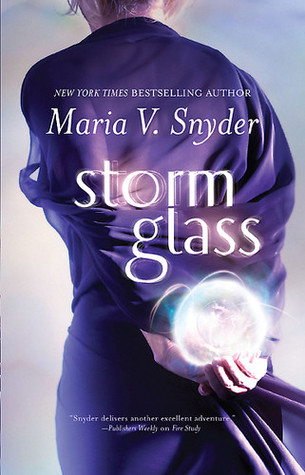 Synopsis: "As a glassmaker and a magician-in-training, Opal Cowen understands trial by fire. Now it's time to test her mettle. Someone has sabotaged the Stormdancer clan's glass orbs, killing their most powerful magicians. The Stormdancers—particularly the mysterious and mercurial Kade—require Opal's unique talents to prevent it happening again. But when the mission goes awry, Opal must tap in to a new kind of magic as stunningly potent as it is frightening. And the further she delves into the intrigue behind the glass and magic, the more distorted things appear. With lives hanging in the balance—including her own—Opal must control powers she hadn't known she possessed… - powers that might lead to disaster beyond anything she's ever known."

My Review: It has been a while since I read the Study series that takes place prior to this book, so it took a little time for me to slip back into the world. The one good thing was that I didn't miss my favorite characters from the previous books as much as I would have expected. Opal is a great MC, she had many qualities that I could connect with and it drew me into the story. The sub characters were also each interesting and unique and I look forward to reading more with them. The one other thing that was really well done is that this was definitely separate from the original series but it was still well connected and a couple of storylines did carry over so there was that connection with the original series.
My Rating: It was fun to get back into this world even though it took a while. I give it a rating of Four Paws.
~~~~~~~~~~~~~~~~~~~~~~~~~~~~~~~~~~~~~~~~~~
Synopsis: "Like the colorful pieces of sea glass washed up on shore, Opal has weathered rough waters and twisting currents. But instead of finding a tranquil eddy, Opal is caught in a riptide. Her unique glass messengers which allow instant communication over vast distances have become a vital part of Sitian society. Once used solely by the Councilors and magicians, other powerful factions are now vying for control. Control of the messengers equals control of Sitia. Unfortunately that also means control of Opal. If that isn't enough of a problem, Opal's determination to prove blood magic is still being used is met with strong resistance. The Council doubts her, her mentor doubts her, and even her family is concerned. When her world is turned upside down, she begins to doubt herself. In the end, Opal must decide who to believe, who to trust, and who has control—otherwise she will shatter into a million pieces and be swept out by the tide."

My Review: After reading Storm Glass, I couldn't help but jump right into this next book in the series. I liked watching Opal develop throughout the story and learn some tough lessons. I did find it a little irritating that we are once again facing the same 'bad' guys. It gets a little exhausting to have to read about trying to defeat the same ones over and over again. I found the conclusion to be really interesting, especially considering there is another book in this trilogy. In fact I was so curious I immediately start the final book.
My Rating: Even with repeated enemies this was an intriguing installment in the series. I give it a rating of Four Paws.
~~~~~~~~~~~~~~~~~~~~~~~~~~~~~~~~~~~~~~~~~~~~~~~~~~~
Synopsis: "An undercover mission
leads to danger, adventure
and an impossible choice.

After siphoning her own blood magic in the showdown at Hubal, student glass magician Opal Cowan lost her powers. Immune to the effects of magic, Opal is now an outsider looking in, spying through the glass on those with the powers she once had. Powers that make a difference in the world.

Suddenly the beautiful pieces she makes begin to flash in the presence of magic and Opal learns that someone has stolen some of her blood. Finding it might let her regain her powers or discover that they're lost forever..."

My Review: I hate to say it but I am a little glad that this is the last of the Glass series. I am a little tired of Opal and all her issues. Remember all that talk about the Mary Sue character, the lack of confidence and self sacrificing? Yup that is Opal. Not to mention the love triangle. I felt like this final book was a lot of clichés and a repeat of other books in the series (both Glass and Study). It was a long book to get through and a lot going on yet somehow without a lot going on (at least new going on). Don't get me wrong, I still really enjoyed the book in fact I stayed up way to late at night to finish it, I am just saying enough is enough and I am glad it is ended. I am vacillating between actually continuing the Ixia series with the Soulfinders or just calling it good here.
My Rating: I felt like this book kind of dragged things out a little too much. I did enjoy the introduction of some new sub-characters but I wonder if it is even likely the next series will involve them more. I give this one a rating of Three Paws.
~~~~~~~~~~~~~~~~~~~~~~~~~~~~~~~~~~~~~~~~~~~~
Series Review: I was really excited to read this series at first because I absolutely inhaled the whole Study Series. I waited until I had all three books (as I often do with series because I cannot stand waiting for the next book). I am very glad I waited so long to read the Glass series, I didn't miss Yelena and Valek as much as I expected. Yes they do make appearances but they are obviously not the main characters of this series. The series started off good with some interesting characters and issues to solve. I found that the second book while a little repetitive of some of the plot points of the first book still had a very intriguing conclusion. The final book however really took away from the series as a whole. I feel like the book was almost an add on requirement from the publisher and the previous two books had to be edited so the storyline could continue. By the end I really wasn't a fan of Opal and found her personality (or really lack thereof) to be grating.
The next book in the Chronicles of Ixia was released earlier this year and it brings Yelena and Valek back to the frontline. I am almost wondering if using those popular characters to bring readers back is a way of redeeming the failings of this series.
As a whole I give this series a rating of Three Paws and a Stump Wag. The final book really took away from the whole series.
~~~~~~~~~~~~~~~~~~~~~~~~~~~~~~~~~~~~~~~
Have you read this series? What did you think of it? Are you going to be reading the Soulfinders Series?