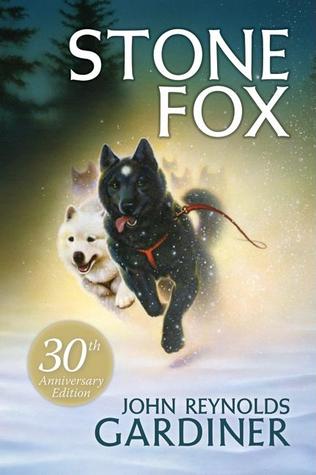 Read for: Across the States & Mount TBR
Synopsis: "John Reynolds Gardiner's action-packed canine adventure story of a thrilling dogsled race has captivated readers for more than thirty years.

Based on a Rocky Mountain legend, Stone Fox tells the story of Little Willy, who lives with his grandfather in Wyoming. When Grandfather falls ill, he is no longer able to work the farm, which is in danger of foreclosure. Little Willy is determined to win the National Dogsled Race—the prize money would save the farm and his grandfather. But he isn't the only one who desperately wants to win. Willy and his brave dog Searchlight must face off against experienced racers, including a Native American man named Stone Fox, who has never lost a race."

My Review: Once I started reading this book it all came back to me in a flash and I recall reading it years and years ago. I almost didn't want to finish the book because I knew it made me cry. I do seem to remember it being a long book to read but clearly as a young reader it must have been, but now it was a fast read. I enjoyed the story, Little Willy and Searchlight both show love, compassion, courage and heart. I am a little confused as to the grandfather's illness but for the age group of readers I guess it didn't seem to matter much. This is definitely one I look forward to sharing with Munchkin.
My Rating: I do recall loving this book as a kid and I thoroughly enjoyed it again as an adult. I really am looking forward to sharing this with Munchkin when he grows older. I give it a rating of Four Paws.