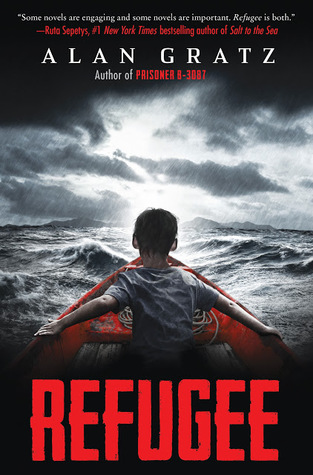 Read for: Beat the Backlist/ Middle Grade March
Synopsis:
"
Three different kids.
One mission in common: ESCAPE.
Josef is a Jewish boy in 1930s Nazi Germany. With the threat of concentration camps looming, he and his family board a ship bound for the other side of the world…
Isabel is a Cuban girl in 1994. With riots and unrest plaguing her country, she and her family set out on a raft, hoping to find safety and freedom in America…
Mahmoud is a Syrian boy in 2015. With his homeland torn apart by violence and destruction, he and his family begin a long trek toward Europe…
All three young people will go on harrowing journeys in search of refuge. All will face unimaginable dangers–from drownings to bombings to betrayals. But for each of them, there is always the hope of tomorrow. And although Josef, Isabel, and Mahmoud are separated by continents and decades, surprising connections will tie their stories together in the end."
My Review:
I have been hearing really great things about this book so decided to finally pick it up for Middle Grade March. At first I found it really odd the way the 3 children's stories were told, alternating chapters between the three of them when they all take place in very different time periods and parts of the world. It does become clear later in the book and the way they are all interwoven at the end was amazing. You really get a feel for all the dangers and losses each child faced when attempting to run with their families to freedom and safety. It is also a very eye opening book, how does Middle Grade always manage to tackle these tough subjects so well (and YA readers can't handle it in their books)?!
My Rating: I enjoyed this book far more than I expected, I was a little thrown off at the beginning with the alternating chapters but it all came together beautifully. I give it a rating of Four Paws!