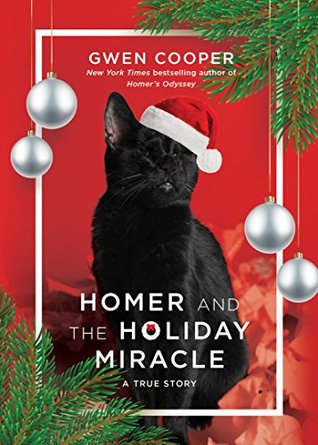 Read for: Advent Reads & Requested Review/Netgalley
Synopsis: "Fifteen years earlier, doctors had warned that Homer—a tiny, sightless kitten—was unlikely to survive and probably wouldn't have much of a life even if he did. Miraculously and against all the odds, however, Homer grew into a feline dynamo who scaled seven-foot bookcases with ease, saved his human mom's life when he chased a late-night burglar from their apartment, and rose to global fame—paving the way for other special-needs animals once considered "unadoptable."
Now, only two weeks before Christmas, with doctors once again decreeing that Homer didn't have much time—that he wouldn't even make it to Christmas Eve—Homer showed everyone that he still had one more miracle left in him. The heroic blind cat proved again, once and for all, that hope and love aren't things you see with your eyes. You see them with your heart.
Humorous and heartwarming,
Homer and the Holiday Miracle
will leave you filled with the true spirit of the season. It's the ideal stocking-stuffer for the cat lover on your list—and the perfect holiday treat for yourself. Read and rejoice!"
My Review:
Being an animal lover, I had to jump at the opportunity to read Homer and the Holiday Miracle. I admit that I haven't read Homer's Odyssey yet even though it has been sitting on my shelf for some time now, but I couldn't resist a holiday story. This one ended up being extremely difficult story for me to read, the story starts out with Homer getting sick and having his liver enzymes off the chart. My own black cat, Valerie, went through this exact situation a few years ago, so it was hard to relive the pain of not knowing whether the beloved pet would survive or not during the holiday season. Even with that sad and heartbreaking undertone, the story still had that warm, fuzzy feeling that I love during the holiday season. We get to see the remarkable connection between pets and their owners and the empathy pets manage to display. This book also manages to include both Christmas and Hanukkah traditions, stories and beliefs, making it a fantastic read during the holiday season.
My Rating: I really connected with this story, with everything we have gone through with our cat, Valerie's, health over the past few years. It was an emotional and heart-warming story, and perfect for pet lovers during the holiday season. I give it a rating of Four Paws and a Stump Wag!
I received a copy of this book via Netgalley, under no obligation or compensation, the above is my honest review.
Homer and the Holiday Miracle was released at the end of October this year, so you can get your own copy now in digital or print formats from Amazon or Barnes & Noble or ask about it at your favorite local bookstore!