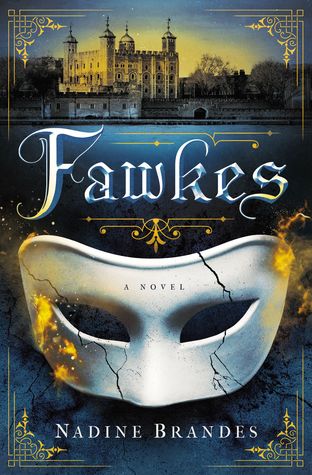 Read for: Requested Reviews/ Netgalley
Synopsis: "Thomas Fawkes is turning to stone, and the only cure to the Stone Plague is to join his father's plot to assassinate the king of England.
Silent wars leave the most carnage. The wars that are never declared, but are carried out in dark alleys with masks and hidden knives. Wars where color power alters the natural rhythm of 17th century London. And when the king calls for peace, no one listens until he finally calls for death.
But what if death finds him first?
Keepers think the Igniters caused the plague. Igniters think the Keepers did. But all Thomas knows is that the Stone Plague infecting his eye is spreading. And if he doesn't do something soon, he'll be a lifeless statue. So when his Keeper father, Guy Fawkes, invites him to join the Gunpowder Plot—claiming it will put an end to the plague—Thomas is in.
The plan: use 36 barrels of gunpowder to blow up the Igniter King.
The problem: Doing so will destroy the family of the girl Thomas loves. But backing out of the plot will send his father and the other plotters to the gallows. To save one, Thomas will lose the other.
No matter Thomas's choice, one thing is clear: once the decision is made and the color masks have been put on, there's no turning back."
My Review:
I kept hearing about this book in Instagram, it has a beautiful cover so I was pretty excited when I was approved on Netgalley for an ARC. I went into this story a little blind, I only vaguely knew it was a historical fiction with a fantasy twist (and the fantasy is what drew me in), and honestly this is a book not to go into blind. I really struggled with this book, the pacing is really slow and if you are not invested in the characters or the story you will quickly loose interest. I ended up downloading the audio book in hopes of getting the story moving a little better for me and the voice fluctuation did help identifying the characters but it really didn't help the story too much for me. I appreciate the amount of research that went into this story to keep it as close to accurate as possible but I feel like that added to the story dragging, it became too dense and too detail oriented. There were also a few statements that were made throughout the story about race, beliefs and getting to the truth but again they didn't add to the story and were a bit of a filler, even though they are important topics, it just didn't fit with this story for me. Clearly a lot of other readers really enjoyed this story and that is great but it didn't work for me.
My Rating: I so struggled with this book, for a book just over 400 pages and using the ebook with the audio book it should have taken me only a few days to get through it but it took nearly 10 days. I really had to force myself to keep picking it up. Sadly this is a One Star and a Stump Wag book for me.
I received this book via Netgalley, the above is my honest review and opinion.
Fawkes might be the book for you, if so you can find it in digital or print format from Amazon or Barnes & Noble.