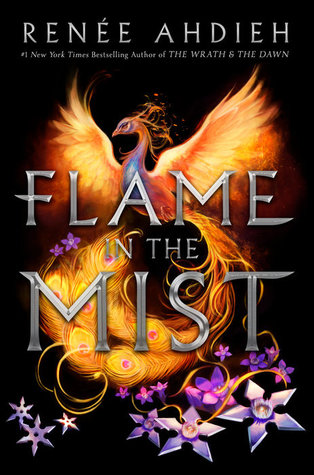 Read for: Recent Purchase
Synopsis:
"The only daughter of a prominent samurai, Mariko has always known she'd been raised for one purpose and one purpose only: to marry. Never mind her cunning, which rivals that of her twin brother, Kenshin, or her skills as an accomplished alchemist. Since Mariko was not born a boy, her fate was sealed the moment she drew her first breath.

So, at just seventeen years old, Mariko is sent to the imperial palace to meet her betrothed, a man she did not choose, for the very first time. But the journey is cut short when Mariko's convoy is viciously attacked by the Black Clan, a dangerous group of bandits who've been hired to kill Mariko before she reaches the palace.

The lone survivor, Mariko narrowly escapes to the woods, where she plots her revenge. Dressed as a peasant boy, she sets out to infiltrate the Black Clan and hunt down those responsible for the target on her back. Once she's within their ranks, though, Mariko finds for the first time she's appreciated for her intellect and abilities. She even finds herself falling in love—a love that will force her to question everything she's ever known about her family, her purpose, and her deepest desires."
My Review:
I read this for the Summer Biannual Bibliothon readathon and I am glad I had a reason to pick it up. I think a lot of people have been disappointed because they were expecting a Mulan re-telling, it is important to differentiate that this book is Mulan inspired but a complete different story. I really enjoyed Mariko as a character, you do get to see her struggle to learn a new way of living but then see her flourish. I also enjoyed the play between the characters in the Black Clan, they are each unique and have individual personalities. I am not sure about the historical accuracy but while it is reserved, it does seem a little more liberal than I would expect. There is a fantasy element with one of the side characters (who may become more prominent in the next book) that I felt was not really needed, I would have been happy with this being a simple historical fiction book. I also didn't realize that this was going to have a sequel, I am pretty satisfied with this ending and almost wish there wasn't another book coming.
My Rating: I was rather excited about this book, like so many others as well. I had not read the author's other series, Wrath & The Dawn, so wasn't sure what to expect. There are some pacing issues, it starts out very slow and the suddenly moves quickly. Some of the events throughout seemed a little pointless, though that may be clarified in the next book, and like I said the magical element really didn't seem to be needed. I give this one a rating of Three Paws.