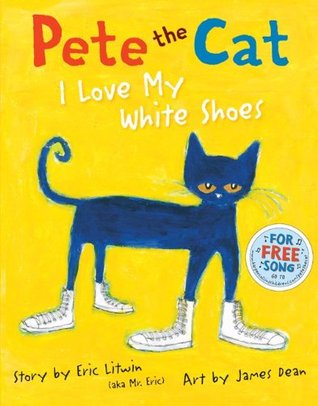 Synopsis: "Pete the Cat goes walking down the street wearing his brand new white shoes. Along the way, his shoes change from white to red to blue to brown to WET as he steps in piles of strawberries, blueberries, and other big messes! But no matter what color his shoes are, Pete keeps movin' and groovin' and singing his song...because it's all good. Pete the Cat: I Love My White Shoes asks the reader questions about the colors of different foods and objects."


My Review: It has been a while since we read a Pete the Cat book, but we of course love his jazzy style. This book was no different, Pete has another fun song that he is singing throughout the book about his shoes. It is a great way to get kids involved and have some fun talking about colors. No matter what happens to the shoes Pete loves, he always keeps an upbeat personality 'because its all good', it teaches kids that sometimes things aren't worth crying or getting upset over. Munchkin of course loves this book and we have read it several more times.
My Rating: We really love Pete the Cat and sometimes I forget how great and upbeat these books are until I pick one up again. Munchkin really enjoys this one and we can't help but give it a rating of Four Paws!