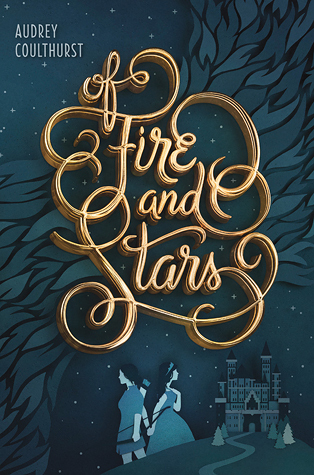 Read for: Received in Dec. 2016 Novel Tea Box
Synopsis: "Betrothed since childhood to the prince of Mynaria, Princess Dennaleia has always known what her future holds. Her marriage will seal the alliance between Mynaria and her homeland, protecting her people from other hostile lands. But Denna has a secret. She possesses an Affinity for fire—a dangerous gift for the future queen of a kingdom where magic is forbidden.

Now, Denna must learn the ways of her new home while trying to hide her growing magic. To make matters worse, she must learn to ride Mynaria's formidable warhorses—and her teacher is the person who intimidates her most, the prickly and unconventional Princess Amaranthine—called Mare—the sister of her betrothed.

When a shocking assassination leaves the kingdom reeling, Mare and Denna reluctantly join forces to search for the culprit. As the two become closer, Mare is surprised by Denna's intelligence and bravery, while Denna is drawn to Mare's independent streak. And soon their friendship is threatening to blossom into something more.

But with dangerous conflict brewing that makes the alliance more important than ever, acting on their feelings could be deadly. Forced to choose between their duty and their hearts, Mare and Denna must find a way to save their kingdoms—and each other."

My Review: I was so excited to read this book, like just about everyone else, and now this review is probably going to upset some people because I ended up being highly disappointed. I hate to say it but I found this story to be so poorly put together, the world building was very lack luster, the magic system was unexplained and thrown together, the characters were rather flat and unappealing, most of the sub-characters were toss away, the romance was also flat, and the plot lines were unimaginative, flat, and poorly developed. Denna starts off as a promising character, versed in politics, economics, book smart, but then she falls into a completely submissive role without even attempting to push for a place of respect or leadership. I enjoyed Mare for the most part, at least she pretty much continues to do what she believes in. I liked the large role the horses played in the kingdom but other than that it was a flop for me. The court intrigue was not intrigue at all, the villain was easily identified well prior to the evil plot being revealed which lead to an unsatisfying climax, never mind the conclusion. I honestly feel like this was a book thrown together in order to cash in on the recent push for diverse books featuring LGBTQ characters and themes.
My Rating: This book has me so frustrated! I actually gave it a few days after finishing to see if my opinions would change but nope I still feel like this was a sloppily put together book to cash in. Not only that but the writing was very simplistic, almost like a Middle Grade. I can't help but give this book a rating of One Paw and a Stump Wag.
Note: If you are looking for a fantasy book that features a f/f romance try Huntress by Malinda Lo (and not that it was published in 2011 - I am a little tired of hearing that Of Fire and Stars is the first book of it's kind).