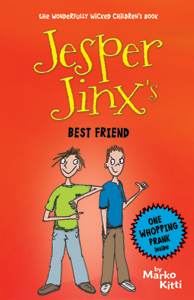 Read for: Requested Reviews & this is a great series!
Synopsis: "Jesper Jinx is eleven, and probably the unluckiest person in all of Puffington Hill. Everything he touches seems to end up in sweet disaster. Hence his nickname 'Jinx'.

Every great hero needs a sidekick who's ready to laugh at their silly antics. And Oliver has been just that for Jesper on countless pranks since the day they were born. But now Jesper's sister Melinda has set her sights on Oliver and even worse, he doesn't seem to mind.

Add to this horrible dilemma the fact that there is a heatwave in Puffington Hill. The air is now so hot that birds are falling from the trees and grandpas and grandmas are forced to wear bikinis. It all adds up to sweet disaster for Jesper.

How far is he willing to go to save his friendship with Oliver?"

My Review: I have been a big fan of the Jesper Jinx series since it first started and had no doubts that this book would stand up to that level. I was not disappointed at all! As a mom of a little boy who is becoming an avid book fan, I am really appreciating books that appeal to young male readers, and the joy of this series is that it will appeal to boys and girls of all ages. The series as a whole has had a very fun, prankster tone to it and this book is no different but it has another level that I hadn't noticed in the previous books. This one brings in an element of when friends disagree and go their separate ways, which is all to common for the audience age group. I think it handled it really well and still managed to keep the fun in the story. Of course the secretive conversation voice of the story with the narrator also adds another fun element to the book, and the ending leaves you wondering about the next book.
My Rating: I have really loved this series so far and while it has mostly been fun and games this book in particular has a really relatable subject matter, but of course is done in a fun way. This series just keeps getting better and better! I give this one a rating of Four Paws and a Stump Wag!
I was sent this book by the author in exchange for an honest review. To find out more about Marko Kitti and his work you can visit his Goodreads Page or Website (which is now mobile devise friendly) or sign up for his Newsletter.
Jesper Jinx's Best Friend was recently released on October 10th and you can obtain your own copy in print or digital format from Amazon or in print from Barnes and Noble.