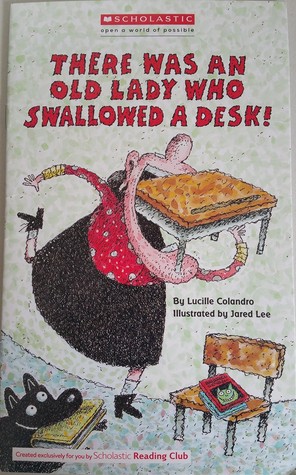 Read for: Early Reader Challenge & Kids are headed to school now!
Synopsis: "A quirky teacher swallows a desk and multiple other items to decorate a classroom."

My Review: Munchkin has been coming home from daycare singing the Old Lady Who Swallowed a fly song, boy did it bring back memories (but I can't for the life of me remember all the words). I then remembered we received this book as a freebie with a scholastic book order some time ago. It was a fun book that might make going to school a bit more fun. The rhyme was good but I just couldn't quite get the same rhythm down to really get into the book. There was also a big jump between the last couple of pages that kept making me think I had missed a page but I guess the story just jumps right into the end. It was still a fun to read and Munchkin found it funny.
My Rating: It didn't hold quite the same magic as the original song/rhyme but it is still a great beginning reader for those kids headed to kindergarten or 1st grade. I give it a rating of Three Paws.