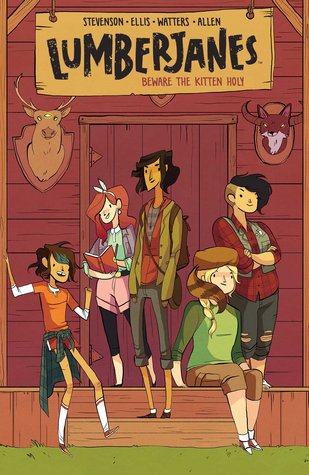 Read for: Graphic Novel Challenge
Synopsis: "At Miss Qiunzilla Thiskwin Penniquiqul Thistle Crumpet's camp for hard-core lady-types, things are not what they seem. Three-eyed foxes. Secret caves. Anagrams. Luckily, Jo, April, Mal, Molly, and Ripley are five rad, butt-kicking best pals determined to have an awesome summer together... And they're not gonna let a magical quest or an array of supernatural critters get in their way! The mystery keeps getting bigger, and it all begins here."

My Review: I have been hearing about and seeing this GN everywhere lately, so I thought I would give it a try. It is rather confusing from the start, you are kind of dropped into the middle of things and it really is difficult to work out backstory and characters (I honestly still am not sure as to the main character names or who is who). Once you get past that it is really a fun little story, it is like a play on girl scout camp in the extreme with some paranormal type things happening. It really was fun and easy to connect to the story, I will definitely be reading the next volume and see where this one goes.
My Rating: This was an interesting graphic novel, I don't think it quite holds up to a lot of the hype but it is maybe worth checking out the next one to see if questions are cleared up. I give it a rating of Three Paws.