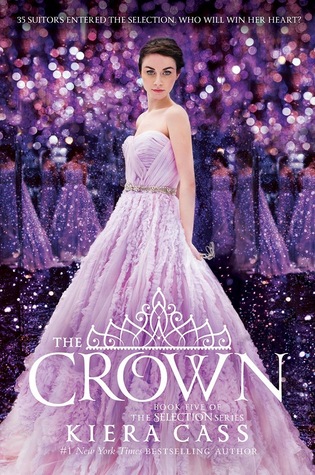 Read for: Audio book Challenge & Series Challenge
You can find my review of the rest of the series
HERE.
Synopsis: "When Eadlyn became the first princess of Illéa to hold her own Selection, she didn't think she would fall in love with any of her thirty-five suitors. She spent the first few weeks of the competition counting down the days until she could send them all home. But as events at the palace force Eadlyn even further into the spotlight, she realizes that she might not be content remaining alone.

Eadlyn still isn't sure she'll find the fairytale ending her parents did twenty years ago. But sometimes the heart has a way of surprising you…and soon Eadlyn must make a choice that feels more impossible—and more important—than she ever imagined."

My Review: So I know I said at the beginning of The Heir that I wasn't really an Eadlyn fan, but throughout this book my opinion of her definitely goes up. I came to really adore her and the guys in her selection. With this book (as well as the rest of the series) I just couldn't stop listening, I have the audio book. It was totally engrossing and it was interesting to see how she handled each new challenge thrown at her, some times she faltered and sometimes she rose to the challenge. I liked seeing how her personality developed throughout the book. Oh and don't forget the guys, I came to love each one of them as Eadlyn did, but I am very happy to say she ended up with the one I picked right off the bat, so that made me happy. While I am very sad to see this series come to an end (which as far as I know this is the end), I am happy with the way Cass was able to draw things to a close. There are some plot points left a little open for your own conclusion but for the most part it was ended beautifully.
My Rating: I know this series really isn't for everyone, and oddly enough I have found similar books to be very tedious and annoying lately, but for who knows what reason (maybe the writing, maybe the developments throughout the books, or the characters) I really loved this series. This book was a beautiful bow at the end of the series. I give it a rating of Four Paws and a Stump Wag.
Note: Aren't all the covers beautiful? I think I may just have to go buy them in print so I can have them on my shelves too!