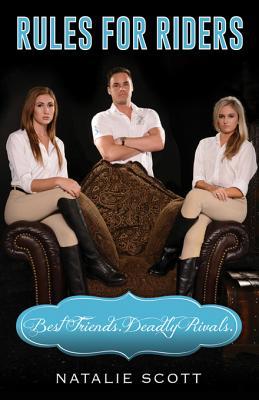 Read For: Requested Review
Synopsis: "After a near fatal riding accident, Bebe Barkley is banned from riding and sent off to boarding school. Finn Foxley, her roommate and partner in crime, devise a plan to get themselves kicked out of school, in order to return to the world they love.
Once back on the Equestrian circuit, best friends will become deadly rivals! Enter Billy O'Reilly, Bebe's handsome trainer, who will enforce 7 Rules that will turn Bebe's world up upside down forever."

My Review: As many of you know I am a little bit of a horse nut and so when offered any equine based book I snap at the chance to read it. Upon starting this book I found it very disconnected, it was almost like I was reading a cliffs notes or some other briefing. The sentences were short and abrupt only giving the necessary information. I did really enjoy Billy but couldn't really care less about the other characters. The storyline also jumps around, it is like the author couldn't decide what time of book to write, a high society book, an equine book, a romance, a crime novel, it is all there but not put together smoothly. I did enjoy the competitive portions of the book and of course the parts where Bebe is actually riding and training, but the rest just left a disconnect with me.
My Rating: I just noticed on the front cover it stated Best Friends. Deadly Rivals. I definitely did not get the best friend part, while Bebe & Finn roomed together and did things together it didn't seem friendly at all, more of a controlling situation. I unfortunately have to give this one a rating of Two Paws.
Rules for Riders was sent to me by the Publicist in exchange for an honest review.
You can purchase Rules for Riders in digital or print formats from Amazon.