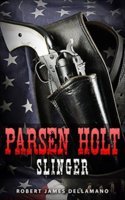 Read for: Requested Review
Synopsis: "A taut, gripping western filled with unexpected encounters, interesting characters and exciting adventure!
Join Parsen as he's forced to layover in a small town that he doesn't want to be in. And whose residents don't want him there either.
Will Parsen make it out of town alive?"

My Review: I am a sucker for a good western and this book was right up my alley. Dellamano did a great job of creating the setting and the character, it did at times get a little overly descriptive but not to the point that it ruined the story. The suspense was built up a few times and made you curious as to what would happen. My only little complaint is that I want more, I really enjoyed it and even though the ending was wrapped up nicely, I still want more.
My Rating: I really did enjoy this short story. I did discover there will be more books in this series so that is a huge plus for me. I give this one a rating of Four Paws.
This book was sent to me by the author in exchange for an honest review.
You can find out more about Mr. Dellamano and his work on his Goodreads Page.
You can also obtain your own copy of Parsen Holt - Slinger in digital format from Amazon or Barnes & Noble.