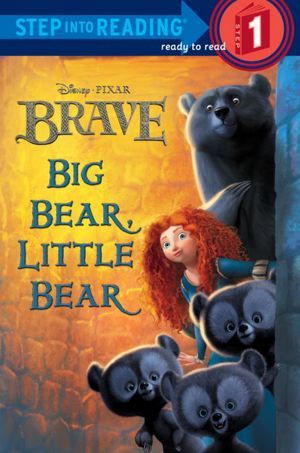 Synopsis: "Pixar Animation Studio's 13th animated feature film, Disney/Pixar "Brave, " is an epic adventure set in the rugged and mysterious Highlands of Scotland. Determined to carve her own path in life, a skilled archer named Princess Merida defies a sacred age-old custom--and inadvertently unleashes a beastly curse upon the kingdom. To set things right, Merida embarks on a perilous quest and discovers the meaning of true bravery. Kids ages 4-6 will love learning to read with this Step 1 reader based on the film."

My Review: This is probably one of the best level one books I have come across so far. It has simple sentences that include actions, sizes and sight words for those beginning readers. The use of favorite characters from the movie Brave will also motivated young readers. There isn't so much of a storyline as just simple lines to read and familiarize new readers.
My Rating: This was perfect for putting those site words to use. Though the lack of storyline is a little disappointing. I give it a rating of Three Paws and a Stump Wag.