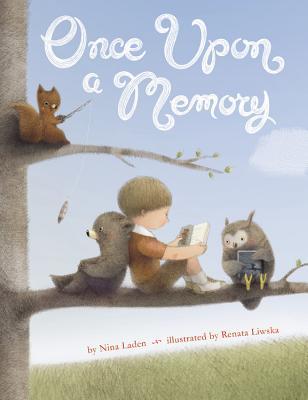 Synopsis: "When a feather drifts through a child's window, a magical journey begins. As the boy follows the feather, he is swept away to a world filled with adorable animals, where fantasy and reality come together in surprising and playful ways. From the cake that once was grain to the ocean that once was rain, whimsical "before" and "after" scenes offer readers a peek at the world as seen through the eyes of a curious child, ultimately asking the question, "What will you remember?"


Nina Laden's poetic and cleverly woven text is perfectly paired with bestselling artist Renata Liwska's captivating illustrations. Together they create a story that will keep readers enchanted long after the journey has ended."

My Review: This is probably the best book I have read so far this year (after reading 177 so far in 2014). The illustrations have a soft almost colored pencil look to them and are absolutely adorable. The thoughts on the page are so simple yet bring about a lot of deep thought. It is a wonderful, lulling story to read for bedtime that will stick with you for days.
My Rating: I highly recommend this book whether you have kids or not! Go get it!! I give it a rating of Four Paw and a Stump Wag!!
Good Night! Sweet Dreams!