I have been trying to figure out a way to share all these books I read with you but still include other non-review posts on the blog. One method I have come up with was to share the reviews for an entire series (or pair) of books in one post. I will do my absolute best to keep spoilers out of these posts in case you plan to read the books, but there is a slight chance that even the synopsis of a book can give away the result of the previous book. So if you don't want to know anything at all about the later books in a series that might giveaway something in the first book
STOP READING NOW!
So I understand that these aren't technically a series, and honestly they aren't even really companion novels, but I was led to believe that so I read them together. To save time I thought I would just put the reviews in the same post.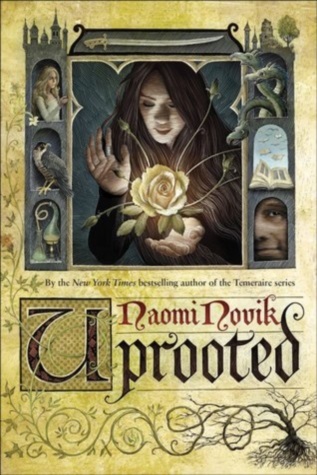 Synopsis:
"
"Our Dragon doesn't eat the girls he takes, no matter what stories they tell outside our valley. We hear them sometimes, from travelers passing through. They talk as though we were doing human sacrifice, and he were a real dragon. Of course that's not true: he may be a wizard and immortal, but he's still a man, and our fathers would band together and kill him if he wanted to eat one of us every ten years. He protects us against the Wood, and we're grateful, but not that grateful."
Agnieszka loves her valley home, her quiet village, the forests and the bright shining river. But the corrupted Wood stands on the border, full of malevolent power, and its shadow lies over her life.
Her people rely on the cold, driven wizard known only as the Dragon to keep its powers at bay. But he demands a terrible price for his help: one young woman handed over to serve him for ten years, a fate almost as terrible as falling to the Wood.
But Agnieszka fears the wrong things. For when the Dragon comes, it is not Kasia he will choose."
My Review:
I have heard so many rave about this book so I requested the audio book from the library, unfortunately it came in after Spinning Silver. While others have said they prefer this one to Spinning Silver, I have a different opinion. I really enjoyed the beginning and the end of this book but the middle was just so slow and tedious for me. For a nearly 18 hour audio book, I enjoyed the first 6 hours and the final 4-5 hours, leaving 7-8 hours of lack luster story for me. I very nearly DNFed it several times. The Beauty and the Beast elements that were promised were extremely subtle. I did enjoy the relationship between Sarkan and Agnieska, they way it developed and the original intention behind it were great elements to the story. I honestly might have preferred to have the story told from the Dragon's perspective. The whole middle with the Castle and tracking the Wood down, were just filler to me, they didn't really add much to the story other than continuing throwing road blocks up. It is leaning toward dark fantasy but it just doesn't go far enough for me to like it for that element, it has a fairy tale feel but not enough for me to like it for that and there is a touch of romance but again not enough for me to love it for that. It really was a middle of the road book for me.
My Rating: I so wanted to like this one, so many have loved it but it just was a little to blah through most of the book for me. I think if I had read it first and not had the feel of the intricacies of Spinning Silver in mind, maybe I would have appreciated it more. I give it a rating of Two Paws.
~~~~~~~~~~~~~~~~~~~~~~~~~~~~~~~~~~~~~~~~~~~~~~~~~~~~~~~

Synopsis:
"
Miryem is the daughter and granddaughter of moneylenders... but her father isn't a very good one. Free to lend and reluctant to collect, he has loaned out most of his wife's dowry and left the family on the edge of poverty--until Miryem steps in. Hardening her heart against her fellow villagers' pleas, she sets out to collect what is owed--and finds herself more than up to the task. When her grandfather loans her a pouch of silver pennies, she brings it back full of gold.
But having the reputation of being able to change silver to gold can be more trouble than it's worth--especially when her fate becomes tangled with the cold creatures that haunt the wood, and whose king has learned of her reputation and wants to exploit it for reasons Miryem cannot understand."
My Review:
I was originally intrigued by this story because we don't often see Rumplestiltskin re-tellings and I thought it would be fun to try. I have not read Uprooted yet so was a little nervous going into this one even though they are companion novels and not a sequel. It was a bit of a slow to start book but I really enjoyed the build up of the story. I absolutely loved Miryem's character, her tough no-nonsense personality really resonated with me, with the addition of Wanda's perspective we get more of that hard working/ get the job done personality. I understand how many readers became overwhelmed with all the perspectives in this book as they are introduced throughout the book, with little or no warning. It is particularly difficult with the audio book as there is no break to show the shift in viewpoint, in the print version at least there are little symbols indicating the change in perspective. I really enjoyed how the idea of the villain shifted based on the perspective you viewed them from. I really enjoyed this book, it was so atmospheric and a perfect read to enjoy during the cold winter days!
My Rating: I was completely absorbed by this story, I fell in love with the characters and the intricate plot line where everyone had a role to play. I give this one a rating of Four Paws!
~~~~~~~~~~~~~~~~~~~~~~~~~~~~~~~~~~~~~~~~~~~~~~~~~~~
Overall Thoughts: I have heard great reviews of both of these books, I have also heard a lot of complaints about Spinning Silver having too many POVs and people who loved Uprooted not loving Spinning Silver. Well I had put in library audio book holds on both of these way back in October (and they finally became available in January - too long to wait in my opinion). Spinning Silver became available first so with only a limited time I decided to listen to it right away. I admit that the multiple POVs was a little difficult to follow at times, there was no clear sign that we were changing in the audio book, but the print book does have symbols and page breaks when changing. I did love the intricate story and the details it took to develop. I then picked up Uprooted and was a little disappointed since it seemed that it was the more favored book. I loved the relationship between the Dragon and Agnieszka and really want more of it. I found that the middle of the book dragged a lot and it may have benefited from an additional POV. I have to say that I really preferred Spinning Silver.