I have been trying to figure out a way to share all these books I read with you but still include other non-review posts on the blog. One method I have come up with was to share the reviews for an entire series (or pair) of books in one post. I will do my absolute best to keep spoilers out of these posts in case you plan to read the books, but there is a slight chance that even the synopsis of a book can give away the result of the previous book. So if you don't want to know anything at all about the later books in a series that might giveaway something in the first book
STOP READING NOW!
So I enjoyed the Grisha Trilogy by Leigh Bardugo last year and I have heard that several people enjoyed this duology even more than the trilogy. With King of Scars coming out next year and including a character from this series I thought I better get this read before the next series starts. I listened to both books on Audio and really enjoyed the full cast of narrators to depict so many different points of view.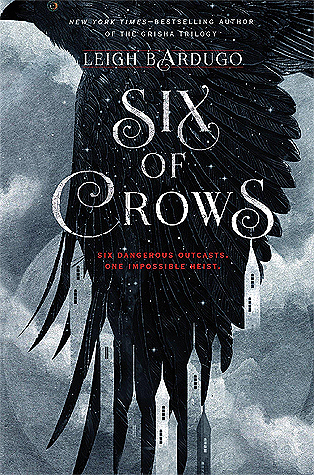 Synopsis:
"
Ketterdam: a bustling hub of international trade where anything can be had for the right price–and no one knows that better than criminal prodigy Kaz Brekker. Kaz is offered a chance at a deadly heist that could make him rich beyond his wildest dreams. But he can't pull it off alone…
A convict with a thirst for revenge.
A sharpshooter who can't walk away from a wager.
A runaway with a privileged past.
A spy known as the Wraith.
A Heartrender using her magic to survive the slums.
A thief with a gift for unlikely escapes.
Six dangerous outcasts. One impossible heist. Kaz's crew is the only thing that might stand between the world and destruction—if they don't kill each other first."
My Review:
I was a big fan of the Grisha trilogy last year, so thought I better pick this duology up before the next series in the world starts next year. I have heard other readers rave about this book and the characters for a while now. It was a surprisingly easy book to get into, I enjoyed the heist feel to the story and the excitement of that, however, so many details of the plan were completely left hidden and that you didn't find out until the end, and I am not a fan of that element. I would have liked at least hints as to how they were going to pull it off and the various backup plans. I also was not a fan of most of the characters, I find most of them unlikable. Inej was the only one who appealed to me and while she is there throughout and does play a big roll, being the spider/ghost (whatever they called her) she was kept to the sides more than I would have liked. I will continue with the next book but I don't see my love for the characters or this particular story line growing much.
My Rating:
I rather enjoyed this book, it did take some time to build up but once the actual heist started it was a better. I give it a rating of
Two Paws and a Stump Wag!
~~~~~~~~~~~~~~~~~~~~~~~~~~~~~~~~~~~~~~~~~~~~~~~~~~~~~~~~~~~~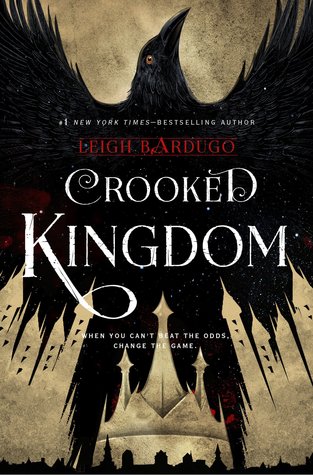 Synopsis:
"When you can't beat the odds, change the game.
Kaz Brekker and his crew have just pulled off a heist so daring even they didn't think they'd survive. But instead of divvying up a fat reward, they're right back to fighting for their lives. Double-crossed and badly weakened, the crew is low on resources, allies, and hope. As powerful forces from around the world descend on Ketterdam to root out the secrets of the dangerous drug known as
jurda parem
, old rivals and new enemies emerge to challenge Kaz's cunning and test the team's fragile loyalties. A war will be waged on the city's dark and twisting streets―a battle for revenge and redemption that will decide the fate of the Grisha world."
My Review:
I have heard so many great things about this book and this duology. I really enjoyed the original Grisha trilogy and even Six of Crows, but this one just didn't work for me. It really could have been cut in half and been so much better. I really didn't need all the additional back story and emotions involved in the center part nor did we need to make the guy we already knew was evil more evil and then yet again show how evil he is, it got a little repetitive and boring for me. I also still am not a fan of Kaz, yes he does kind of redeem himself a time or two but on a whole, I am not a fan. I did enjoy Inej and Matthias, who definitely had the most character development throughout the story. I love a good heist story but I would have liked a little more of the planning to be on the page, too many times both the reader and a few of the characters were just reacting to events because too much was hidden; I realize some things need to be kept secret to give some excitement to the story but I don't enjoy not knowing a single part of the plan. With that said I did really love the addition of some key characters from the previous trilogy, it was nice to tie it together and see some of my favorites return.
My Rating: I was not a fan of this one, and I did actually have to force myself to finish it. I really think it could have been fantastic if it had been cut down in length. I give it a rating of One Paw and a Stump Wag.
~~~~~~~~~~~~~~~~~~~~~~~~~~~~~~~~~~~~~~~~~~~~~~~~~~~~~~~~~~~~~~
Full Series Review: I feel like so many people loved these two books that I must really be missing out on something. I do like the underdog but I don't always root for them, maybe that is where the loss is that the crew really didn't pull on my heart strings. I honestly couldn't stand several of the characters. I also found the second book in particular to be overly long. I am still looking forward to the King of Scars because at least a few of my favorite characters will be featured but this series is not high on my list. I give it a rating of Two Paws overall.