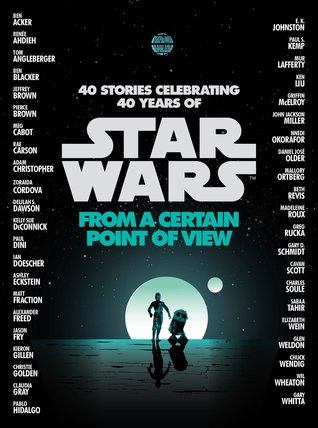 Read for: Mount TBR & Star Wars!
Synopsis: "40 Years. 40 Stories.
In honor of the 40th Anniversary of Star Wars: A New Hope, this unique anthology features Star Wars stories by bestselling authors, trendsetting artists, and treasured voices from Star Wars' literary history. Over 40 authors have lent their unique vision to 40 "scenes," each retelling a different moment from the original Star Wars film, but with a twist: every scene is told from the point of view of a seemingly minor character. Whether it's the X-wing pilots who helped Luke destroy the Death Star or the stormtroopers who never did find the droids they were looking for, Star Wars: From A Certain Point of View places the classic movie in a whole new perspective celebrates the influence and legacy of the unparalleled cultural phenomenon, Star Wars.
Contributors include:
Ben Acker and Ben Blacker - Renee Ahdieh - Tom Angleberger - Meg Cabot - Rae Carson - Zoraida Cordova - Delilah S. Dawson - Paul Dini - Alexander Freed - Jason Fry - Christie Golden - Claudia Gray - E. K. Johnston and Ashley Eckstein - Paul Kemp - Mur Lafferty - Ken Liu - Griffin McElroy - John Jackson Miller - Nnedi Okorafor - Daniel Jose Older - Mallory Ortberg - Madeleine Roux - Gary D. Schmidt - Cavan Scott - Sabaa Tahir - Glen Weldon - Chuck Wendig - Gary Whitta - And more!"
My Review: I held off for a while on this book due to the price but finally caved, it was totally worth the cost! I also downloaded the audio book because I really wanted the sound effects as well. I loved the short little stories that are put into chronological order to coincide with A New Hope. Each of the stories follows one of the side characters that we come across in the original movie. I loved the backstories and getting to know these lesser known characters. It really added something new when watching the movie again. I think my favorite story was the one about the Rebellion's mechanic, that story brought me to tears. It certainly has a wealth of styles of stories and perspectives from both the Empire and the Rebellion and those outside the law on the Outer Rim. I would love if they continue to release books with the other movies in the original trilogy.
My Rating: I am so glad I finally picked this one up. Not all the stories were for me, but the wide variety of writing styles really supported the wide variety of character perspectives. I really highly recommend this one for avid fans, and then go back and watch the movie and tell me how much it changes how you watch it! I give this one a rating of Four Paws and a Stump Wag!!!
I promise this is the last Star Wars book for a while ;)