So this week's topic is all about those fandom merchandise, like what you receive in subscription boxes (and more of course). I admit that I am a bit of a subscription box fiend, but I have really started to narrow down the items that I like in those boxes and have started branching out and just searching for those items on my own. For this prompt you could list the types of items that you love, or you could list items you desperately want. I thought I would list both my favorite types of items and another list of the items that I am wishing and searching for currently.
Top 5 Fandom Items I LOVE
As I am sure you all know, I have a bit of a tea addiction and I especially love book themed teas and often seek them out. I also love book themed mugs and cups, but Hubby swears if I bring one more in the house he will start getting rid of my books (so I will have to start hiding them in cupboards he doesn't look in lol).
I am also a bit of a notebook and pen hoarder, some of my favorite items from book boxes are the notebooks and when Owlcrate sent a fountain pen I nearly died! Of course I never write in these notebooks because I don't want to ruin them with pointless writing. There does need to be more pens in the fandom world, I don't have nearly enough!
What bookworm doesn't love bookmarks?! Of course I rarely actually use bookmarks and instead just remember the page I am on but I do love collecting beautiful bookmarks.
Of course I also love comfy socks and have really accumulated a bunch of themed ones. I do have to say though that often these fandom socks are not of the best quality and wear out quickly.
I might also have a bit of a Star Wars clothing problem too. I love how many unique designs and way to show my love of it. I had to search for quite a while to find something that was work appropriate to wear to the office. I also have to say that I have never felt more confident and beautiful than when I am wearing my Star Wars clothes, the shirt on the top left in particular.
Honorable Mentions:
Pillows, I love fandom pillows (and blankets)! They are comfy and unique and help support you while reading. You can cuddle them when a book or movie rips out your soul. But the down fall is that you really can have too many! They take up space and if the rest of the people in the house aren't into the same fandom they will get sick of them floating around the house and on every piece of furniture. I have 4 or 5 blankets and 6 or 8 pillows and I think that is all I will be allowed.
I also oddly enough really, really love when I receive these little glasses cleaning cloths from authors. I know it is a totally weird, random and small thing but I love them. Nothing cleans the kid finger prints, dog kisses, etc from the lenses than these cloths; and I keep them stashed everywhere, my car, my desk, my purse, by the bed, on my bookshelf and even as bookmarks sometimes. I love them!
Finally, even though I couldn't get a picture because it is all packed up, John Wayne memorabilia! I am a huge John Wayne fan! I have playing cards, all the movies, Breyer Horses of his movie horses, books, even a life size cardboard cutout!
5 Fandom Items I am Wishing For: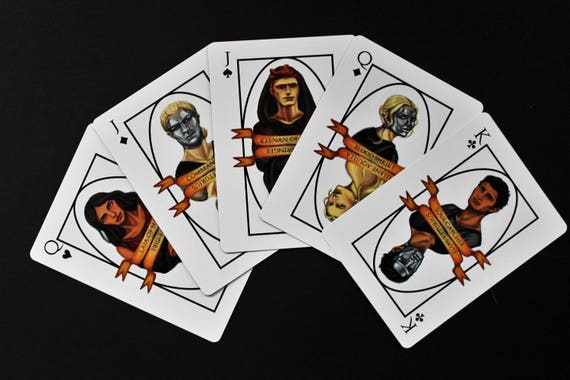 I have been wanting these Ember in the Ashes character cards for a couple of years now, they are available through
Thread Bound Studios
on Etsy.
Because I need more tea cups and infusers right?! But I have been wanting this cup and plate set forever and who wouldn't want that book infuser?! I think it might be essential for me!
And I need a wine glass with Tyrion's quote from Game of Thrones, I am thinking it will be necessary for the final season!
And because I don't have enough Star Wars clothing . . .
So what are some of your favorite fandom items or memoribilia? What is on your wish list?