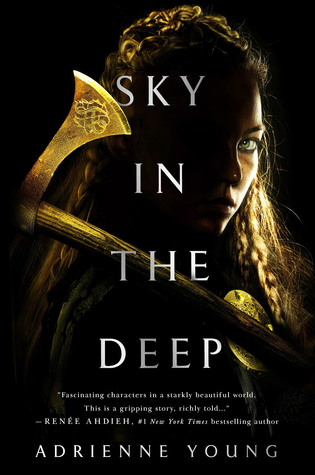 Read for: Vikings! & Netgalley/Requested Review
Synopsis:
"
OND ELDR
. BREATHE FIRE.
Raised to be a warrior, seventeen-year-old Eelyn fights alongside her Aska clansmen in an ancient rivalry against the Riki clan. Her life is brutal but simple: fight and survive. Until the day she sees the impossible on the battlefield—her brother, fighting with the enemy—the brother she watched die five years ago.
Faced with her brother's betrayal, she must survive the winter in the mountains with the Riki, in a village where every neighbor is an enemy, every battle scar possibly one she delivered. But when the Riki village is raided by a ruthless clan thought to be a legend, Eelyn is even more desperate to get back to her beloved family.
She is given no choice but to trust Fiske, her brother's friend, who sees her as a threat. They must do the impossible: unite the clans to fight together, or risk being slaughtered one by one. Driven by a love for her clan and her growing love for Fiske, Eelyn must confront her own definition of loyalty and family while daring to put her faith in the people she's spent her life hating."
My Review:
I have really been anticipating this book but yet was hesitant to pick it up because of so many disappointing Viking books recently. I shouldn't have waited to read it because it was fantastic! I was instantly sucked into the story and was right there with the characters for all the emotions. This was a real page turner and I did not want to put it down until complete. I really appreciated the honest brutality, yet still showed the loyalty, honor and love of the viking community. There were some really fantastic lines throughout the book that I will keep in my favorite quotes book. I loved the character development throughout the story, there is some romance but I really appreciate how it doesn't take center stage, it builds and grows but there are more pressing matters that take priority (and if I remember correctly one of the characters even points that out). The religious and political aspects of the story were also great, though I think they could have used a bit more development and explanation. All in all a book that I am very excited for others to read, and one I will definitely be wanting to re-read again!
My Rating: I was so there for all the emotions in this book, I think that is what really captured me, how raw everything was. This is definitely going on my favorites list and I am giving it a rating of Four Paws and a Stump Wag! Please go and read this one so I can discuss it with you, I am dying to chat with someone about it!!
I received Sky in the Deep via Netgalley, this is my honest review and opinion.
Sky in the Deep is being released TODAY, so go pick up your copy in digital or print format from Amazon or Barnes & Noble or check your local bookstore, if they don't have it yet just ask and I am sure they will order if for you!
And if all of that isn't enough to convince you, check out this trailer for the book!